LG polls: Nearly 8,000 polling stations declared sensitive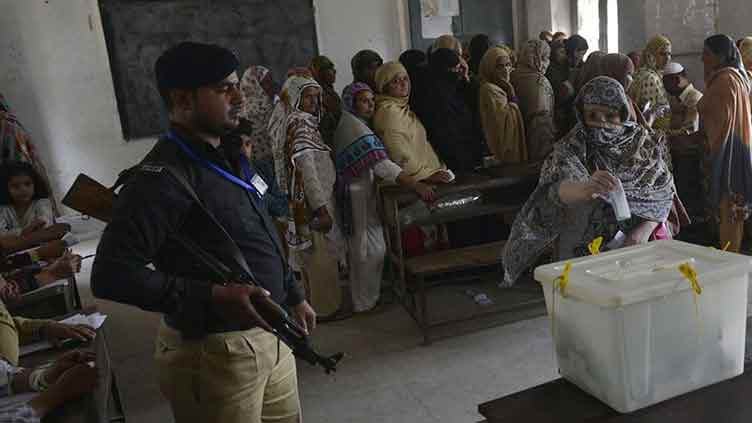 Pakistan
Nearly 8,000 polling stations declared sensitive
KARACHI/HYDERABAD (Dunya News) - Nearly 8,000 polling stations have been declared 'sensitive' or 'highly sensitive' in 16 districts of Sindh.
In Karachi, as many as 3,415 polling stations have been classified as sensitive, 1,496 as highly sensitive and 79 as normal.
Out of 2,674 polling stations in Hyde­rabad division, 1,270 are sensitive, 779 are highly sensitive and 625 are normal.
In Thatta and Sujawal all 1,008 polling stations have been declared sensitive and 185 highly sensitive.
-- Security arrangements --
Over 43,605 law enforcement officials and personnel are performing their duties under the security plan devised by the Sindh government.
According to the Sindh police spokesperson, 26,050 officers and personnel have been deployed on election duty at 4,997 polling stations in the city.
Apart from the law enforcement agency, the spokesperson informed that 200 Frontier Constabulary and 500 rangers personnel have also been deployed for election duty.
All possible measures are being taken to protect the life and property of citizens, the spokesperson stated.
More than 43,605 Karachi police personnel are performing security duty on the day of polling of which 17,588 have been posted in the East zone. Meanwhile, 6,533, 4,837, and 6,218 comprising officers, personnel and staff have been deployed in the District East, Malir, and Korangi, respectively.
The spokesperson added that 11,627, 2,155, 4558 and 4914 personnel have been stationed in the South Zone, District South, District Central, and Keamari, respectively.
Deployment of officers, personnel and staffers in the West Zone, District Central, and District West totalled 14,390, 9,672, and 4,718, respectively.
Around 3,800 traffic police personnel have also been performing their duties.