Elahi's vote of confidence to set the tone for election campaign: Imran Khan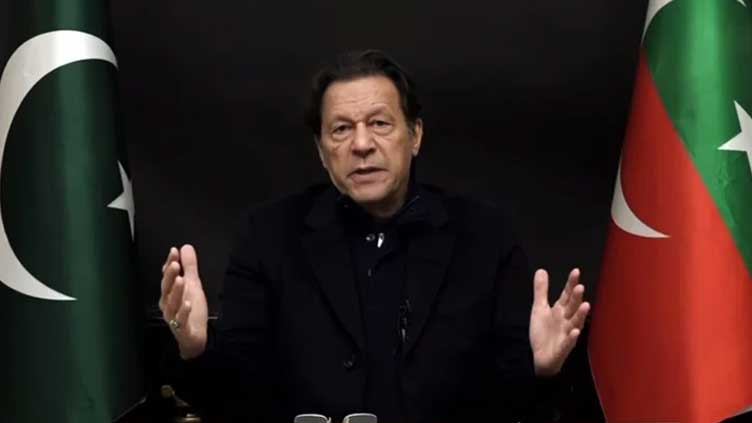 Pakistan
Elahi's vote of confidence to set the tone for election campaign: Imran Khan
LAHORE (Dunya News) – Another twist to high drama in Punjab's political arena appeared as Pakistan Tehreek-e-Insaf (PTI) supremo Imran Khan said on Saturday the PTI would begin the election campaign after Punjab Chief Minister Parvez Elahi's vote of confidence in the assembly.
A meeting of the PTI top brass, headed by Imran Khan, was held at his Zaman Park residence in Lahore. Punjab Assembly Speaker Malik Sibtain Khan, provincial minister Malik Aslam Iqbal, Dr Yasmin Rashid and others participated to discuss the political impasse and Mr Elahi's vote of confidence.

The deposed premier, while taking a swipe at the ruling Pakistan Democratic Movement (PDM), said he would not provide any opportunity to the "imported group" to escape from snap elections, adding that the rulers knew that they would be rejected by the masses. He said the PTI would begin the election campaign after Parvez Ealhi's vote of confidence in the Punjab Assembly.

Earlier, PTI's parliamentary leader in Punjab Assembly Usman Buzdar said he did not issue any instructions to party lawmakers to help Punjab Chief Minister (CM) Parvez Elahi secure a vote of confidence in the assembly on Jan 9.

Also read: PTI to resign from PA if assembly dissolution delayed

The PTI chief had said the chief minister should secure a vote of confidence in the assembly before Jan 9, otherwise the PTI would quit the assembly.

Sources said PTI's legal team had advised the chief to initiate the process as per Lahore High Court's ruling otherwise, it would give constitutional weight to Punjab Governor Balighur Rehman's orders [binding CM to secure trust vote before Jan 11]. The court had earlier adjourned the hearing until Jan 11 and bound the CM to obtain a vote of confidence before dissolving the Punjab Assembly after Mr Elahi moved the LHC against the governor's notification removing him as the CM.

PTI MPA Zainab Umair said the party was deliberating on the matter.