South Waziristan's Wana echoes with calls for peace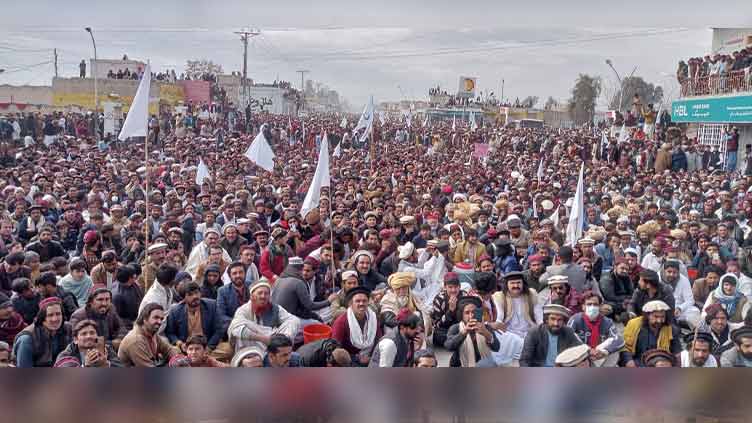 Pakistan
Huge anti-terrorism rally held in South Waziristan's Wana
WANA (Web Desk) – A massive rally was carried out to raise voice against rising cases of terrorism and banned outfit Tehreek-e-Taliban Pakistan (TTP) in Wana, the largest town of South Waziristan district in Khyber Pakhtunkhwa (KP).
Videos posted on social media shows thousands of people took to the streets carrying pro-peace banners and placards with their major demand of restoring law and order in the region. People can be heard raising slogans for establishing peace.
Pakistan has witnessed surge in terrorism cases, particularly in KP and Balochistan, after the TTP announced withdrawal from ceasefire agreement in November last. Reports said the banned outfit was responsible for around 100 attacked carried out in 2022. In December last, security officials in Islamabad managed to foil a major terror bid when a suicide bomber had to blew himself up in a tax when he was intercepted for checking on the way to meet his handler.
The huge gathering of people in the former tribal district recalled a historic rally carried out by people of Swat against terrorism after a van of school children was attacked by militants.
Leaders of PPP, PTM, PML-N and AWP also joined the pro-peace rally in Wana. In their addresses, they demanded the government to establish writ of state, asserting that terrorism was not acceptable at any cost.
Massive pro-peace rally being held today in Wana, South Waziristan where participants are calling for peace, end to terrorism and restoration of law and order. Pakistan pic.twitter.com/R5tq2ZOjUn

— FJ (Natsecjeff) January 6, 2023
Saying attacks of security forces have increased, the speakers highlighted that common citizens wer also unsafe as they are facing threats of extortion and kidnapping.
The demonstrators have also vowed to continue the protest until the constitution of police force to eliminate the militants without discrimination of "good and bad Taliban" from the area.
A day earlier, security forces killed 11 terrorists, including militant commander Hafiz Ullah alias Tor Hafiz and two suicide bombers, in an Intelligence Based Operation in Wana .
The Inter-Services Public Relations (ISPR), in a statement, the security forces successfully foiled a high profile terrorist activity in the area. A huge quantity of weapons and ammunition was also recovered from the killed terrorists.