Anti-terrorism court sends suspect in Imran attack on six-day remand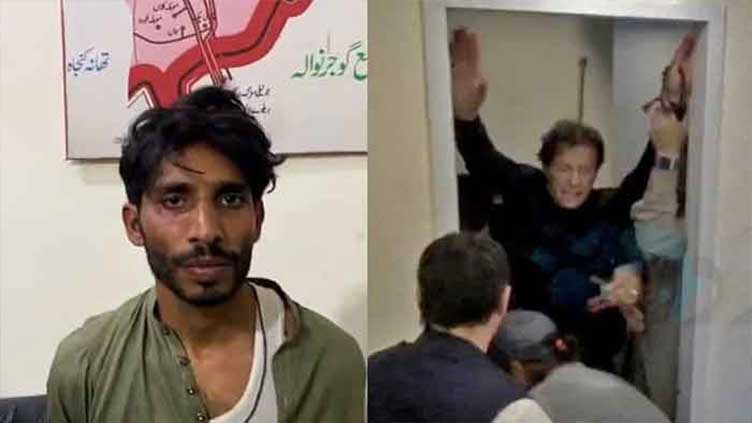 Pakistan
Anti-terrorism court sends suspect in Imran attack on six-day remand
GUJRANWALA (Dunya News) – The anti-terrorism court (ATC) on Tuesday sent suspect Naveed and his facilitator Waqas in attacking Pakistan Tehreek-e-Insaf (PTI) chairman Imran Khan on six-day and 14-day remand respectively to the joint investigation team (JIT).
The JIt had requested the court to send the suspects on remand to investigate them.
ATC judge Rana Zahid Iqbal heard the plea.
Sultan Salah-ud-Din, the suspect's lawyer, while arguing against the remand said the JIT was politically motivated to secure a remand adding the weapon recovered from the accused did not match shells recovered from the place of incidence [Wazirabad]. "A passerby has been accused of the attack", he added.
The judge remarked that the country bears the testimony to attacks on political personalities.
The lawyer argued that it seemed that the PTI was behind the attack adding investigation needed to be conducted on how PTI senator Ijaz Chaudhry knew about the attack a day before it occurred.
The judge remarked that these arguments would be evaluated later.
The lawyer said the suspect needed another polygraphic test as well as investigation into his financial assets and bank accounts.
READ ALSO: Not four full-bullets but pieces and shards hit Imran: Forensic report
The suspect said he had no link to the attack adding he was being tortured and the police had arrested eight others. The judge remarked that he must present his case only.
The lawyer requested the court to allow the suspect to see his family but it was turned down.
The court, while reserving the verdict on remand, ordered Naveed and Waqas to appear before the court on Jan 9 and Jan 17 respectively.
JIT head Ghulam Mehmood Dogar also appeared before the court