Two terrorists killed, three soldiers martyred in Kurram gun battle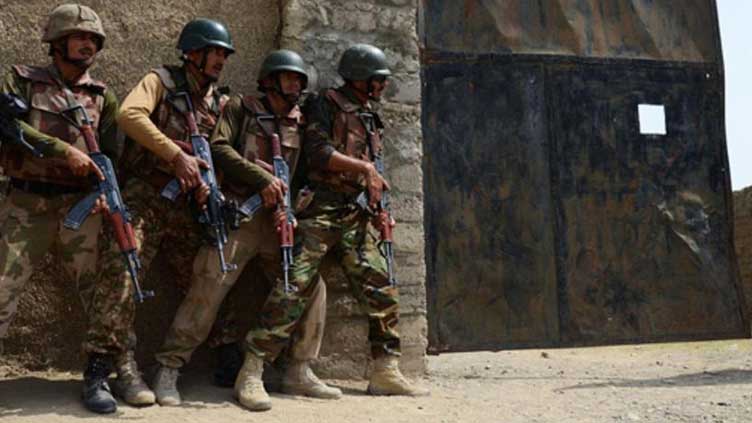 Pakistan
Two terrorists killed, three soldiers martyred in Kurram gun battle
RAWALPINDI (Dunya News) – Three soldiers embraced martyrdom, while two terrorists were killed in an exchange of fire in the Kurram district's Arwali area on Thursday.
According to the Inter-Services Public Relations (ISPR), the intelligence-based operation (IBO) had been carried out in the Kurram district's Arwali.
The security forces fought bravely and engaged the terrorist's location effectively, killing two terrorists. Weapons and ammunition were also recovered from the terrorists who were killed.
"Subedar Shuja Muhammad, Naik Muhammad Ramzan, and Sepoy Abdul Rehman were among the martyrs," the military's media wing statement said.
It further stated that the operation would continue until all terrorists had been eliminated.
The Pakistan Army is determined to end the scourge of terrorism, the ISPR said, adding that the sacrifices of brave men strengthen our resolve.
On the other hand, President Dr. Arif Alvi and Prime Minister Shehbaz Sharif have paid tribute to Pakistan Army and martyrs for strong action against terrorists in Kurram District.
In a statement, the Prime Minister paid salute to Subedar Shuja Muhammad, Naik Muhammad Ramzan, Sepoy Abdul Rahman for their courage and bravery.
He said we will continue to move forward with determination against terrorism and those challenging Pakistan s security will find no place to hide.
Shehbaz Sharif extended sympathy and condolences to the families of the martyrs.
Meanwhile, Senate Chairman Muhammad Sadiq Sanjrani also strongly condemned the terrorists' attack on security personnel in Arawali area of Kurram district, Khyber Pakhtunkhwa.
In a statement, the chairman lauded the security forces for their vigorous action against terrorists and said the anti-state elements will never succeed in their nefarious designs.
He said the entire nation is united against the menace of terrorism. Chairman expressed heartfelt sympathy to the families of the soldiers who were martyred in the attack.
Pakistan is determined to root out terrorism, he said adding that the elements involved in such activities were the enemies of humanity and the country.
Incidents of terrorism cannot dampen our spirits. The sacrifices of the security forces will not go in vain for the survival of peace in the region.