Punjab Governor's attempt to restore Article 58-2(b) thwarted: Elahi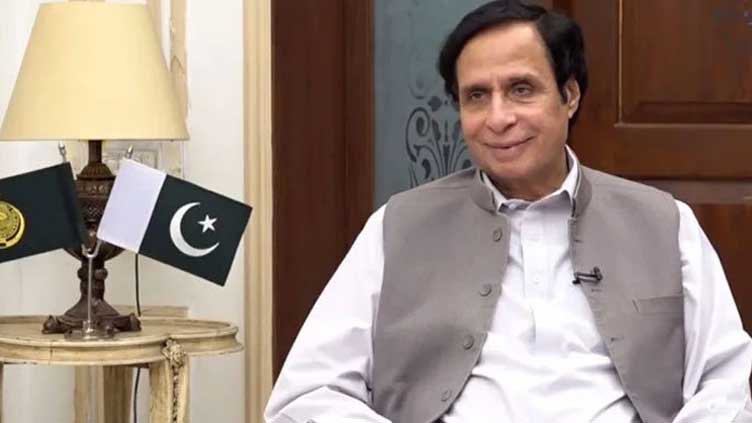 Pakistan
Punjab Governor's attempt to restore Article 58-2(b) thwarted, says Elahi
LAHORE (Dunya News) – Punjab Chief Minister Chaudhry Parvez Elahi on Friday felicitated the people of Punjab as the Lahore High Court impeded the path of constitutional violation by the Governor Punjab adding that a nefarious effort to topple and elected government in pitched darkness has been foiled.
In a statement after LHC verdict on Friday, CM Parvez Elahi stated that the selected Governor of the imported government tried to restore Article 58(2)(b) but its course has been blocked.
Read also: Parvez Elahi back in the saddle
He underscored that the decision regarding dissolution of assemblies is final and complete implementation will be ensured on Imran Khan's decision.
The CM maintained that the imported government wants to escape from holding elections in the country but resolved to compel the federal government to stand in the court of public and a final decision will rest with the messes.
Elahi further outlined that today's Punjab Assembly resolution against the Governor is of paramount importance. He stated that in the light of this resolution we earnestly request the President of Pakistan to initiate an action against the Governor for committing misconduct and should be removed from holding his office forthwith.
Meanwhile, the chief minister also welcomed the Lahore High Court judgement and stated that the ruling marks a victory of our viewpoint adding that we always uphold supremacy of the constitution and rule of law.
Read More: PTI s top brass welcomes LHC s verdict
The Punjab chief minister heard the Lahore High Court judgement at his office chamber in the Punjab Assembly.
Assembly Members, Principal Secretary to CM Muhammad Khan Bhatti and concerned officials were also present on the occasion.
The Assembly Members congratulated CM Parvez Elahi on the historic judgement given by the Lahore High Court bench to suspend the Governor Punjab notification with regard to de-notifying the Chief Minister.
The CM stated that Allah Almighty bestowed upon him this position and will safeguard it. He said, "We have taken upon us the obligation to serve the religion with devotion and will take forward this noble mission as well."
Elahi also thanked the Assembly Members for showing their complete support for him. Deputy Speaker Punjab Wasiq Qayyum, Ghazanfar Chheena, Rana Shahbaz, Malik Taimoor Masood, Malik Umer Farooq, Ashraf Rind, Taimoor Lali and other members were also present on the occasion.