Rana Sanaullah says govt is ready for unconditional talks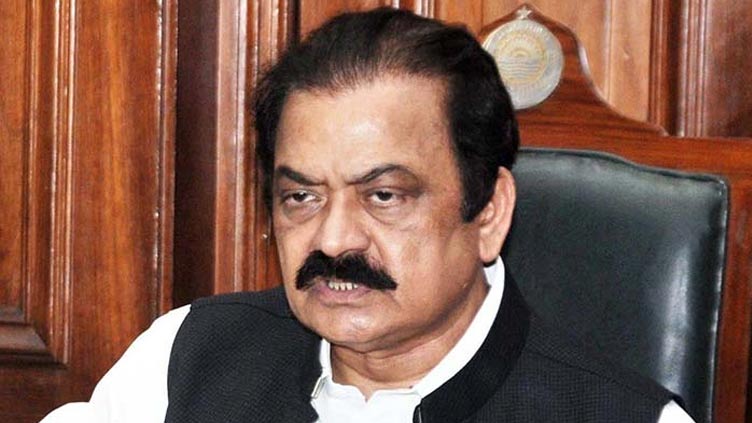 Pakistan
Interior Minister said Imran Khan was blackmailing government.
LAHORE (Dunya News) – Federal Minister for Interior Rana Sanaullah said on Saturday PTI Chairman Imran Khan did not extend any offer for talks; however, the coalition government was ready for dialogue without preconditions.
Speaking to media persons after appearing before an anti-narcotics court, the PML-N leader said fake cases were filed against members of his party but now courts were dispensing justice by quashing the fabricated cases. He said Imran Khan had been blackmailing the government and damaging the country for the past seven months just to satisfy his personal ego.
Mr Sanaullah said the PML-N leaders had requested Nawaz Sharif to return to Pakistan and lead the party ahead of the next general election. The three-time prime minister accepted the request and would soon be among the masses, he announced. As for the economic front, the PML-N leader said the government was leaving no stone unturned to avoid default but the opposition had 'politicised' the issue.
Earlier in the day, Rana Sanaullah filed an acquittal plea in the drugs peddling case registered against him by the Anti-Narcotics Force (ANF) in 2019. The minister appeared before a special narcotics court in Lahore where he submitted the petition, arguing that cases was registered against him on a political basis. He said the prosecution team did not have any evidence against him.
While referring to PTI leader Fawad Chaudhry' statement that the case against Mr Sanaullah was fabricated, the PML-N leader asked the court to remove the charges against him. In July last, Mr Chaudhry in a talk show admitted that the drug smuggling case against the PML-N bigwig was fabricated and shouldn't have been lodged. On July 1, 2019, Mr Sanaullah was arrested by the ANF Lahore team while travelling from Faisalabad to Lahore near the Ravi Toll Plaza on the motorway, claiming to have recovered 15kg of heroin from his vehicle.
An FIR was registered against him under sections 186,189 and 353 of the Pakistan Penal Code (PPC), and sections 15, 17 of 9C of the Control of Narcotic Substances Act (CNSA) 1997.