Imran says he expected new military leadership to have 'dissociated from past policies'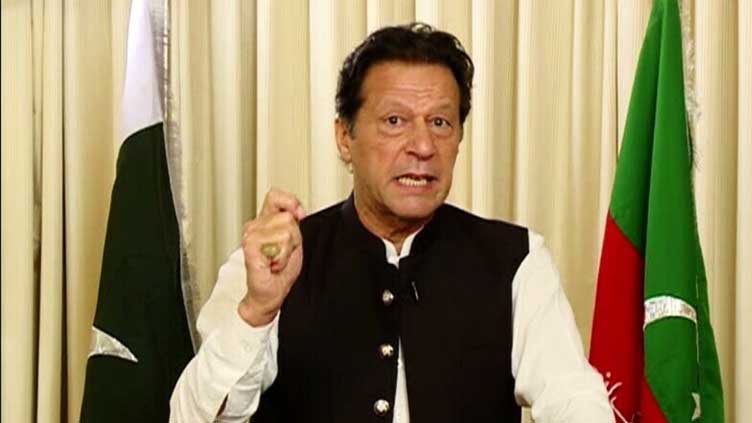 Pakistan
Imran says he expected new military leadership to have 'dissociated from past policies'
LAHORE (Web Desk) – Former Prime Minister and Pakistan Tehreek-e-Insaf (PTI) chief Imran Khan on Saturday, while reacting to PTI's leader and Senator Azam Swati's arrest said that he expected that the new military leadership would have "dissociated" from retired Gen Qamar Javed Bajwa's policies.

Taking to Twitter, the former premier stated that "The entire nation is shocked at the vindictive cruelty Senator Azam Swati is being subjected to, and for what crime?"
The PTI Chief asked that "For intemperate language and asking questions which is the right of anyone in a democracy?"
He further stated that internationally, Pakistan and its military were being perceived "increasingly negatively" because the incumbent federal government was "seen as a mere puppet government".
"One had hoped the new mly ldrship would have immed disassociated from the 8 mths of Bajwa's fascist actions against PTI, the media & critical journalists," he added.
Imran khan further said "74-year-old Senator Swati must be released immediately, not only because he committed no crime to deserve this mental and physical torture", but because the "petulant and vengeful targeting" was undermining the military's credibility.
— Imran Khan (@ImranKhanPTI) December 3, 2022
Imran Khan backtracks from talks offer, will go for dissolution of assemblies
Earlier, Imran Khan backtracked from his offer to government for talks and clarified that his previous statement was just meant to emphasize gravity of the situation.

Addressing a meeting of parliamentary party of KP, PTI Chief claimed that Pakistan's economic situation is spiraling out of control and country heads towards default but Finance Minister Ishaq Dar and his predecessor Miftah Ismail are engaged in a public spat.

Criticizing incumbent government, former premier said the only achievement of Pakistan Democratic Movement (PDM) and its allies in past seven months is that they managed to get relief for themselves in corruption cases against them.

PTI Chief also announced that they will dissolve Punjab and Khyber Pakhtunkhwa assemblies in the current month and go for to elections.

Earlier in the day, the Pakistan Muslim League-Nawaz (PML-N) expressed willingness to go into talks with Imran Khan-led PTI without any precondition to stem political turmoil in the country.

PML-N leaders Khawaja Saad Rafique and Rana Sanaullah announced it in a press conference after a party huddle chaired by Prime Minister Shehbaz Sharif to discuss Mr Khan's offer for conditional talks on election date.

Sources quoted the participants in the PML-N meeting as having said that the talks could be held with PTI if Mr Khan was serious for it. Holding negotiations was a positive gesture, but there should not be any precondition, they said, adding that the government also sought an end to the political deadlock in the country.

Rafique, who is federal railways and aviation minister of the coalition government, said Mr Khan could go for an adventure of dissolving assemblies but the PML-N would not be a part of any unconstitutional act.