Imran Khan can't fool people through his fake narratives: Marriyum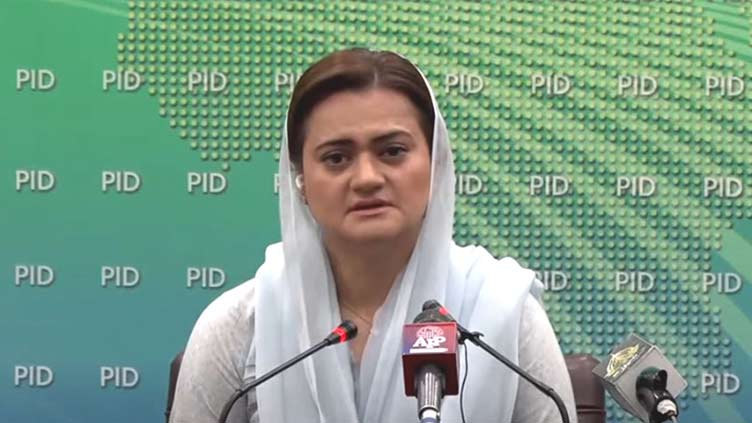 Pakistan
Imran Khan can't fool people through his fake narratives, says Marriyum
ISLAMABAD (Dunya News) – Minister for Information and Broadcasting Marriyum Aurangzeb has rebutted the allegations of PTI Chairman against Prime Minister Shehbaz Sharif, Interior Minister and country s top institution, terming them fabricated and baseless.
Addressing media in Islamabad on Friday, she said PTI chairman Imran Khan cannot fool the people through his fake narratives.
In response to Imran Khan s diatribe against coalition government during his Friday s speech, she said the only purpose of Imran Khan s fake stories is to grab power through illegal means.
The Minister said for this purpose, he not only compromised country s interest but also started maligning the image our top institutions.
She said whole coalition government irrespective of their political affiliation condemned the attack on Imran Khan.
She said Prime Minister Shehbaz Sharif has sought the inquiry of the incident and also offered all kind of facilitation in this regard.
The Minister said instead of levelling baseless allegations, Imran Khan should opt a legal way for the inquiry of his case. She said all these allegations were made during his tenure but he couldn t prove any such allegation against PML-N leadership.
Marriyum Aurangzeb said during this case, Imran Khan used Shaukat Khanum s resources for his own politics in the same way as he used charity money for his own politics.
She said in his four years, Imran Khan caused economic destruction in the country, cut the belly of the poor, made the poor poorer, and angered friendly countries.
The Minister also urged the country s political parties not to use religious card for their personal gains. She said we should sit together to end intolerance and make our country prosperous.
She said we are ready to become the part of any kind of investigation in this case and Federal government will facilitate this investigation in every possible manner.