I don't talk to 'boot polishers', Imran Khan to PM Shehbaz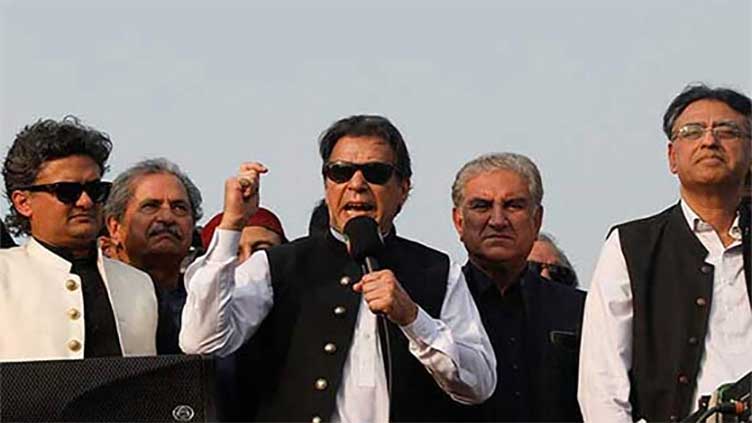 Pakistan
I don't talk to 'boot polishers', Imran Khan to PM Shehbaz
MURIDKE (Dunya News) - Pakistan Tehreek-e-Insaf (PTI) Chairman Imran Khan on Sunday while slamming the Prime Minister Shehbaz Shairf during PTI long march said that he does not talk to 'boot polishers'.
Addressing the public on the third day of PTI's long march in Muridke, Former Prime Minister Imran Khan said that according to Shehbaz Sharif he had sent him a message.
He said, "Why would I send you a message? Listen Shehbaz Sharif, I don't talk to 'boot polishers'. I spoke to Shehbaz Shairf's handlers," adding that, "I told the handlers that transparent elections should be held in the country."
PTI Chairman said that he wants the rule of law in the country and the rights of the people should be protected.
Carrying on with the criticism Imran Khan added that I neither held anyone's feet nor begged and became the prime minister by the power of the people.
He further underscored that he does not seek help from America or anyone else. "The army is mine and the country is also mine. When I criticize the army, it is constructive, "he added.
Imran Khan said the nation does not accept imported government. Slaves and robbers were imposed on us. PTI Chairman made it clear that he won't stop the fight against 'slavery' saying that, "I am a free man, I can die but I cannot be a slave."
It should be noted that PTI long march is moving towards it's destination from Muridke under the leadership of Imran Khan on Sunday. The march will halt at Gujranwala tonight.