Imran deems ECP as 'mafia', announces to move court against his disqualification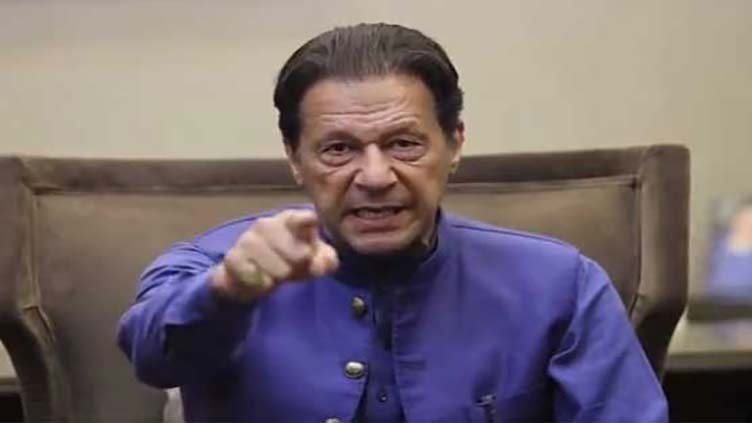 Pakistan
Imran deems ECP as 'mafia', announces to move court against his disqualification
ISLAMABAD (Dunya News) – Pakistan Tehreek-e-Insaf (PTI) Chairman and former prime minister Imran Khan on Friday announced to move court against the Election Commission of Pakistan's (ECP) verdict on his disqualification in the Toshakhana case.
At the outset of his video message, the former premier expressed his gratitude to his supporters for pouring onto the streets for expressing solidarity with him [Imran], saying that the entire nation took to the streets, following the ECP's biased decision. Taking a swipe at the ECP, Imran alleged that the electoral watchdog has delivered verdict as a 'mafia'.
Giving his explanation over the matter, the PTI chief said that records of all the gifts have been preserved in the Toshakhana, adding that the gifts could be purchased by paying half of the amount. Lashing out at the PML-N supremo, Nawaz Sharif and the former president, Asif Zardari, Imran alleged that 'the law of Toshakhana was broken by these two'.
He said, "Yesterday I told the party members that I will be disqualified tomorrow [Friday]. The cases of terrorism were also lodged against me and Shahbaz Gill".
Reiterating that he will continue to fight against the mafia till his last breath, Imran added that the cypher still exists, which was used to topple his [Imran's] government. Believing that the country is passing through a 'decisive' phase, the PTI chairman claimed that he would take out the country's biggest long march.
Alleging that efforts are being made to show him like Nawaz Sharif, Imran said that the courts have declared him as 'Sadiq and Ameen'. He claimed that the 'mafia' is trying to dismantle Pakistan's biggest political party [PTI].