Imran terms by-elections as 'referendum'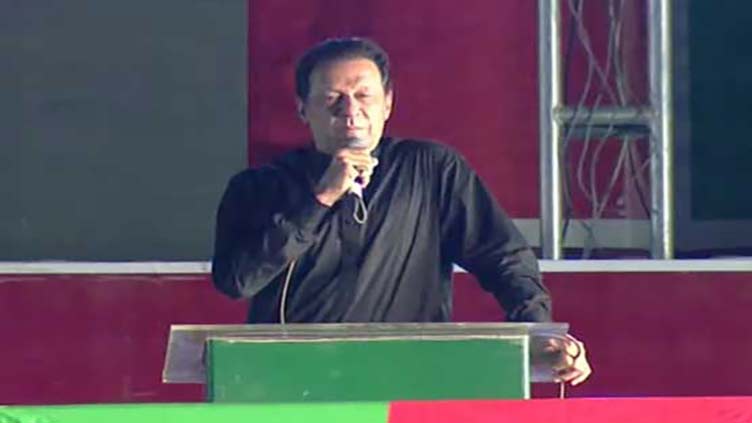 Pakistan
Imran terms by-elections as 'referendum'
KARACHI (Dunya News) – Pakistan Tehreek-e-Insaf (PTI) Chairman Imran Khan on Friday deemed the by-elections as a 'referendum'.
Addressing a rally ahead of the by-elections, the PTI chairman reiterated that his [Imran's] government was toppled through a foreign plot, saying that in the by-elections, the destiny of the country will be decided as the country has entered into the 'decisive' phase.
The former prime minister criticized the current government and said that robbers leave the country after looting money and return with NRO. Describing Karachi as the economic hub of Pakistan, the PTI Chairman [Imran] said that when Karachi faces challenges, Pakistan has to suffer.
Expressing his gratitude to the people of Karachi for welcoming him, the PTI chief said that in the past, political movements always started from the provincial capital of Sindh as the people of Karachi are politically 'enlightened'. Saying that after the end of his government, he held his second public rally in Karachi, in which the people of Karachi supported him wholeheartedly.
Giving his take on inflation, the former prime minister [Imran Khan] said that the current government has broken the records of the last 50 years in terms of ballooning inflation.
Saying that it is up to the public to decide the country's fate, the PTI chief reiterated that history would not forgive those who allowed looters to come to power. Lambasting Prime Minister Shehbaz, Imran said that no chief executive except him [Shehbaz] can talk about 'slavery'.
The former premier posed a question for the Muttahida Quami Movement-Pakistan (MQM-P) and said, "Whether MQM-P is happy by standing by the side of Asif Ali Zardari". Giving his call to the people of Sindh, Imran said that after the long march, he would go to Sindh and free the people of the province from the Zardari mafia.
Talking about his [Imran's] government's performance during the coronavirus outbreak, the former prime minister cited a World Bank report saying that Pakistan was the highest provider of employment opportunities during Covid-19. He further said that the global institutions have praised the PTI government's policies on the pandemic.