Islamabad's Centaurus Mall fire brought under control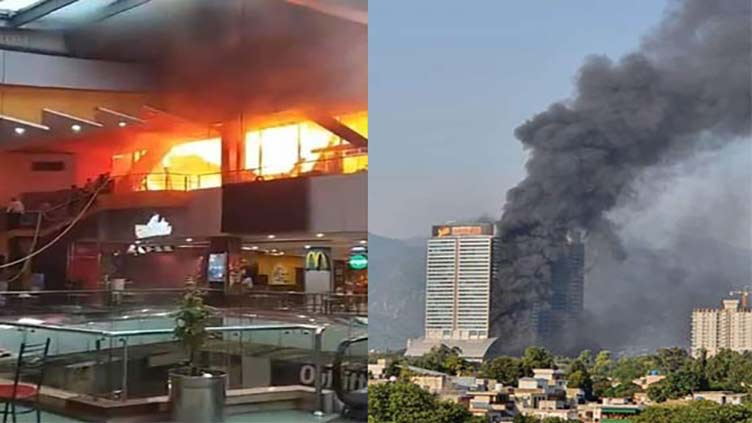 Pakistan
Islamabad's Centaurus Mall fire brought under control
ISLAMABAD (Dunya News) - The fire in Centaurus Mall, which is the federal capital's biggest mall, has been brought under control after which the cooling process continues on Sunday.
According to details, the fire broke out on the eight floors of Centaurus Mall, while, eight vehicles from the fire brigade and rescue teams and all 12 vehicles of Metropolitan reached the shopping mall to extinguish the fire. A large number of were present in the popular mall at the time, when the fire broke out. As per Islamabad Police, a helicopter was also called to extinguish the fire, while the back door was used to evacuate people from the mall, and water supply tankers have also been brought to the affected area. With the help of rescue, all the people in the shopping mall were safely evacuated.
The spokesperson of Islamabad Police said that after the completion of the rescue operation, the building of the shopping mall will be sealed by the order of the Deputy Commissioner Islamabad and nobody will be allowed to enter the shopping mall.
The fire was controlled quickly due to the fact that the firefighting system inside the shopping mall was fully operational, according to the administration. Immediately after the fire broke out, a fire-fighting team of 20 people took part in the process of extinguishing the fire. The fire brigade was also called immediately after the fire broke out in the exterior of the building.
The administration further told that the fire brigade was also called immediately after the fire broke out in the exterior of the building and the help of the fire brigade was called to put out the fire on the upper floors of the mall.
Federal Interior Minister Rana Sanaullah took notice of the fire in a private property in Islamabad and directed the Islamabad administration and fire brigade staff to use all resources to control the fire. He said that the facility of helicopter from the relevant departments should also be used to extinguish the fire. The interior minister said that the reasons for the fire in the property should be examined and the responsible should be determined. A detailed report of the fire should be submitted to the Ministry of Interior, he added.