PM reiterates desire to rebuild Pak-US partnership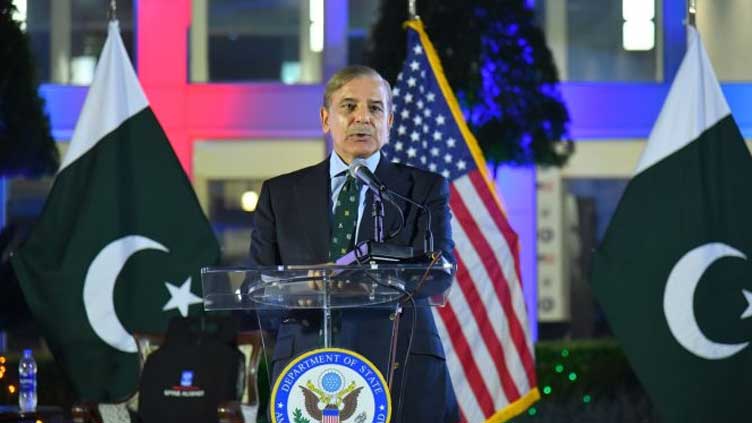 Pakistan
PM reiterates desire to rebuild Pak-US partnership
ISLAMABAD (Dunya News) – Prime Minister Shehbaz Sharif has reiterated the desire to rebuild Pak-US friendship that was based on trust, respect and mutual understanding.
Addressing a ceremony in connection with 75th anniversary of PAK-US relations, in Islamabad today (Thursday), he said the level of this friendship can only be achieved through honest, sincere and serious dialogue.
The Prime Minister said our relations with the United States should not be seen through the prism of our relations with Afghanistan and China.
He said it is matter of great honor to recall that the United States was one of very first countries which offered full recognition to Pakistan.
The Prime Minister also recalled that his recent meeting with President Biden was again very assuring for the support for the program which we have offered to flood affectees in Pakistan.
The Prime Minister said the catastrophic situation is not made by us which destroyed over four million acres of our cultivable land. Sixteen hundred people including children and women have died in it. More than a million livestock have been killed.
He said we are working hard and overtime to help the affected people but it s not enough until every affected person get all facilities back. The task of rehabilitation is even bigger which requires resources. We need the support of international community for rebuilding our infrastructure and providing shelter to our people.
On the occasion, US Ambassador, Donald Blome said that United States will continue to support Pakistan in diverse fields, especially for reconstruction and rehabilitation of flood-hit areas of the country.
He said that people of the United States continue to stand with Pakistan. He said the strength of Pak-US friendship is demonstrated by more than 66 million dollars in U.S. support for flood response.
Ambassador Blome said, over past 75 years, the United States and Pakistan built a relationship based on mutual respect, shared goals and values.
He further said that over the decades, more than 32 billion dollars in U.S. support benefited Pakistan and improved the lives of the people.
He said the rapidly changing world provides a pivotal opportunity to reframe relations between the two countries.
He showed willingness to advance shared interests in trade, investment, clean energy, health, security, education, and other shared priorities.
Prime Minister Shehbaz Sharif attended the 75th anniversary of the Pak-US diplomatic relations.