We want answer on audio leaks, says FM Bilawal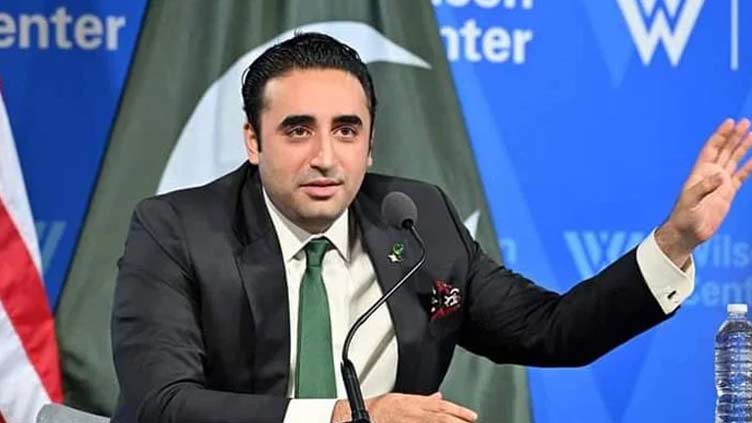 Pakistan
We want answer on audio leaks, says FM Bilawal
LAHORE (Dunya News) – Foreign Minister Bilawal Bhutto Zardari on Thursday while terming describing the issue of audio leaks sensitive said that no matter who the Prime Minister is, the question of national security has arisen and we need answer.
Speaking exclusively to American media outlet on Thursday, he said that the prime minister has ordered an inquiry into the audio leaks following which everyone is waiting for the probe results.
"When it comes to the office of the Prime Minister, whether the Prime Minister is Imran Khan or Shehbaz Sharif, it has raised the question on national security," the FM said.
Regarding negotiations with proscribed Tehreek-e-Taliban Pakistan (TTP), he said that the talks began during previous government's tenure which led to a ceasefire agreement between both parties, adding that their position from the beginning has been that the parliament should be taken into confidence, after which a briefing was given to the parliament.
"We still insist that the negotiation process should be under the supervision of the parliament, but the committee has not been formed yet," he said adding that it is expected that peace will be established as a result of this, but the result of such negotiations in the past had not been positive
To a question, Bilawal said that he is in favour coordinating with the Afghan Taliban, adding that we have not learned any lessons from the 90s. He said that leaving them alone at that time created problems and increased extremism and if we want women and other groups in Afghanistan to have rights, we have to stay in touch with the Taliban.
On the other hand, in his interview with Bloomberg, the PPP chairman renewed call for urgent debt relief and aid to help Pakistan meet the unprecedented challenge posed by climate induced flooding.
He said we will be having a broader conservation with all our partners about restructuring Pakistan s debt.
Alluding to the devastation caused by the floods, the Foreign Minister said rich nations responsible for global warming should help because Pakistan contributes 0.8% of the global carbon footprint but is the eighth-most climate-stressed country.
Bilawal Bhutto Zardari said Pakistan aspires to not only get out of this crisis, but hoping to build back in a greener and climate resilient way.