Ishaq Dar is being brought under NRO deal, claims Imran Khan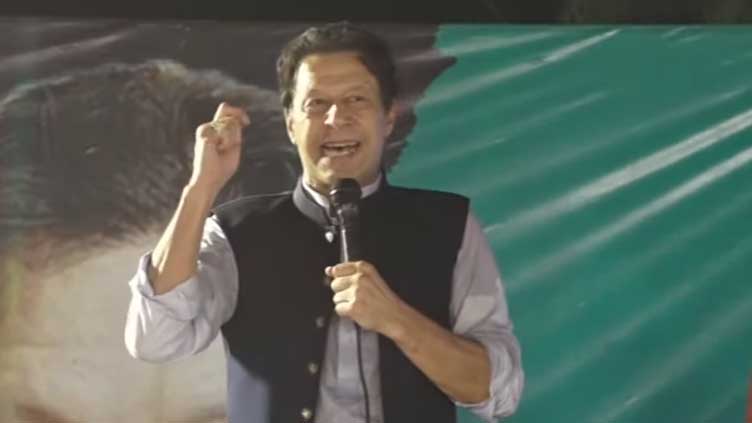 Pakistan
Ishaq Dar is being brought under NRO deal, claims Imran Khan
RAHIM YAR KHAN (Dunya News) – Former Prime Minister and Pakistan Tehreek-e-Insaf (PTI) chairman Imran Khan on Saturday while reacting to Pakistan Muslim League – Nawaz (PML-N) leader and former Finance Minister Ishaq Dar's return to Pakistan, claimed that he is being brought under the NRO deal.

Addressing a public rally in Rahim Yar Khan, the former PM said Shehbaz Sharif was imposed upon the country not because he had any leadership qualities but because he would take dictation from all powers, including the IMF, adding that people were badly affected due to severe floods but Shehbaz Sharif and his delegation stayed in expensive hotels to ask for aid.

Imran Khan added that if the nation does not stand up for real freedom, then similar thieves will remain imposed, adding that 60% of the cabinet is on bail while, on the other hand, they are begging for help from the world.

"If we accept the theft of Rs11,000 billion and slavery of these 'imported rulers , then we have no future." Taking a jibe at the premier for seeking donations from the international community for flood victims, the PTI supremo said the country would have to compromise on national interest by receiving foreign aid as "there is no free lunch".

He went on to say that incumbent rulers were planning to disqualify him as they were scared of the people's power. "They are scared and want to disqualify me," he added.

"Their corruption cases are being forgiven every day. Now Ishaq Dar is also being brought under the NRO deal. He testified against the Sharif family in the Hudaybiya Paper Mills case for money laundering, and he ran away," he added.