PTI's Sibtain Khan elected Punjab Assembly Speaker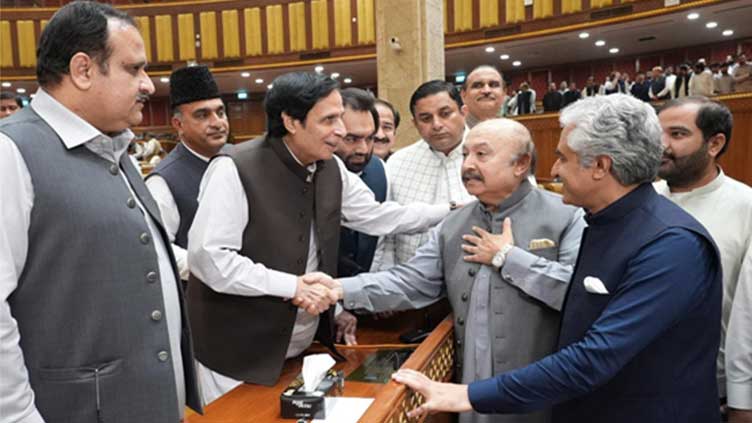 Pakistan
PTI's Sibtain Khan elected Punjab Assembly Speaker
LAHORE (Dunya News) – Joint candidate of Pakistan Tehreek-e-Insaf (PTI) and Pakistan Muslim League-Quaid (PML-Q) Sibtain Khan has been elected as the Speaker of Punjab Assembly.
Sibtain Khan defeated joint opposition candidate Malik Saif-ul-Malook Khokhar after securing 185 votes against the 175 votes obtained by Saif ul Malook Khokhar while Four votes were rejected which was presided over by PTI MPA Waseem Khan Badozai. The rejected votes included three of the opposition and one of the PTI.
After taking charge of the speaker s post, he thanked the Assembly for entrusting him with the respect of the House.
"Some time ago, the police came to the house, the house was disrespected. I will try to prevent such incidents from happening again," said the speaker before postponing the session for 30 minutes.
After his victory, Punjab Chief Minister Elahi congratulated him.
"It is hoped that Sibtain Khan will run the Punjab Assembly in a good manner," said the CM, adding that the opposition, like before, faced another defeat today.
Elahi added that the Opposition will "continue to receive such surprises in the future", adding that the Punjab government will work day and night to serve the province.
It is pertinent to mention that Sibtain Khan, a member of the former party's provincial legislature, had been jointly nominated by Pakistan Tehreek-e-Insaf (PTI) and Pakistan Muslim League-Quaid (PML-Q) to run against Malik Saif-ul-Malook Khokhar, the candidate of the opposition.
The ruling alliance had the backing of 186 legislators, while the PML-N, the PPP, and a few independents MPS have 178.
The post of Punjab Assembly Speaker fell vacant due to the election of Chaudhry Pervez Elahi as the chief minister. The scrutiny of the nomination papers for the PA Speaker election had been completed.