Money from abroad being poured in to oust my govt, PM Imran addresses Amr Bil Maroof rally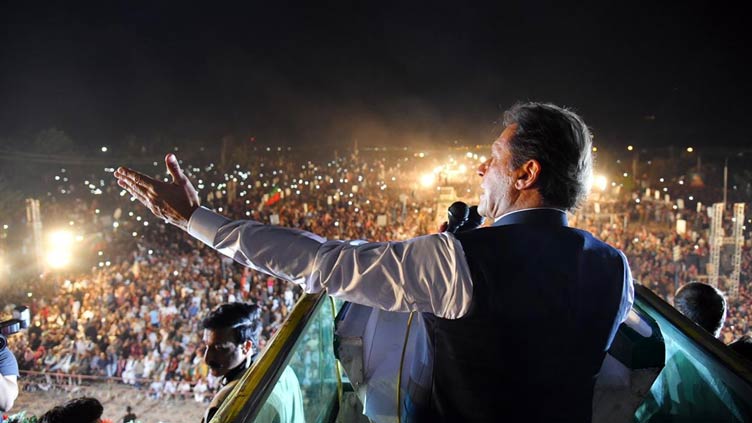 Pakistan
Money from abroad being poured in to oust my govt, PM Imran addresses Amr Bil Maroof rally
ISLAMABAD (Dunya News) – Prime Minister Imran Khan said on Sunday that whether he remains in government or not or he live or die, he will not spare the corrupt leaders and also promised to spend all the money collected through taxes.
Addressing the historic Amr Bil Maroof (enjoin the good) rally at parade Ground in Islamabad on Sunday, he said, "First of all, I would like to thank my nation from the bottom of my heart for coming here today from every corner of Pakistan on my call and today I want to speak my heart out to you." He said that our country was built under a great ideology, that ideology was a welfare state which was to be built on the principles of Madina.
---
Watch Complete speech of PM Imran
---
The Prime Minister said, "I am proud that we have moved towards a welfare state, we are a country of the developing countries which has no health insurance of the world but we have brought health insurance." He said that no other program such as PTI's Ehsaas Program has been started in the history of Pakistan to uplift the weaker sections. In New Pakistan, interest-free loans worth Rs 2 million are being provided to a family to build a business and a house. The premier also expressed the resolve to make Pakistan an Islamic welfare state on pattern of the State of Madina as established by Holy Prophet Muhammad (PBUH).
The prime minister while waving a paper said that foreign money is being poured to topple his government, while "some of our people are also being used to topple the govt".
He said our own people are being used either unintentionally or deliberately for this purpose. He said now the nation has to decide whether it will allow these conspirators and slaves to hatch conspiracies against the government.
Waving a paper, he said a written threat has been hurled on us from abroad, but I want to make it clear that we will not compromise Pakistan s interests. He said anyone doubts his claim can come and have an off the record discussion in this regard. He said the media and the nation should think as to how long we can remain like this. He said he will reveal details of the foreign conspiracy very soon and at some appropriate time.
Without naming former Prime Minister Nawaz Sharif, former President Asif Ali Zardari, and JUI-F Chief Maulana Fazlur Rehman, Imran Khan said Pakistani nation knows that how a person sitting in London meets with whom and characters sitting in Pakistan is towing whose line.
The Prime Minister said similar conspiracy was hatched against former Prime Minister Zulfikar Ali Bhutto for pursuing an independent foreign policy but what an irony it is that ZAB s son in law and grandson are today sitting with those, who have been involved in the killing of Bhutto.
The PM said that he is proud of his parliamentarians but some people tried to buy the loyalities of the lawmakers.
Imran Khan said that with the increase in the tax collection, the PTI government instead of increasing the prices of petrol gave a subsidy of 250 billion and reduced the price of petrol by Rs 10 and power tariff by Rs 5 per unit.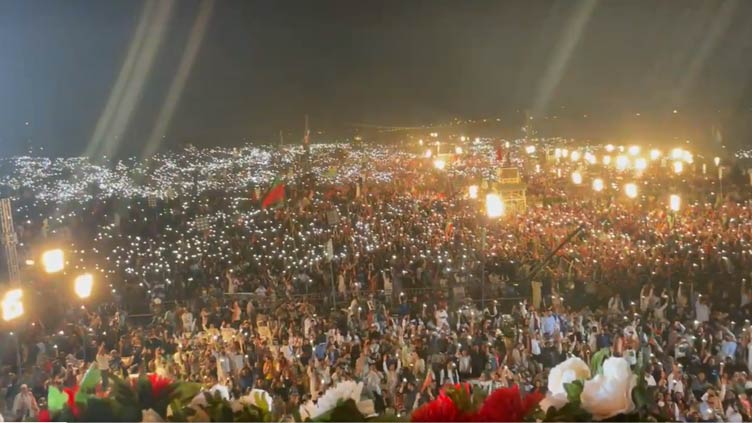 The PM further said that under this passion of the nation, Pakistan has to become a great nation of the world. "I have stood by my ideology for 25 years and I believe that if we follow the path of the holy Prophet Muhammad (PBUH), our country will become great.
He said, "My promise is that when his govt complete 5 years, the whole of Pakistan will see that no government has eradicated poverty from Pakistan so fast."
Launching a diatribe against opposition leaders, he said corrupt elements have been plundering the national wealth for thirty years and now they are trying to blackmail him by moving a no-confidence motion against him.
Imran Khan said he will not compromise on supremacy of law to put the powerful under the ambit of law that is why no NRO will be given to corrupt.
PM Imran said we introduced the policy of smart lock down to handle Covid-19 pandemic. He said the entire world lauded our policy of protecting our people and the economy in a sane manner. Quoting a report of the World Bank, he said there is least unemployment in Pakistan as compared to other countries of the subcontinent.
He said that due to prudent policies of the government, economic growth was recorded at 5.6 percent.
Highlighting his government s pro-people policies, the Prime Minister said exports, industry and tax collection witnessed record growth, adding that Rs 30 billion were allocated to facilitate salaried class to have their own house through easy loans.
The PM said 10 big dams are under construction and will likely be completed by 2028. This will ensure availability of sufficient water for irrigation and human consumption.
Khan said Ravi Urban City project is being completed in Lahore, which is the second planned city after Islamabad in the history of Pakistan. Besides, Lahore Business District is being established to promote businesses in the country.
He said the government has successfully revived the Reko Diq project, which will bring an investment of nine billion dollars. He said the people of Balochistan will benefit the most from this project.
Regarding government s initiative to overcome climate change challenge, Imran Khan said that his government is working on 10 Billion Tree Tsunami Program, adding that we will leave an environmentally-protected country for the coming generation.
He said the government will make Pakistan a tourism hub as it is blessed with enormous scenic beautiful tourism places. He announced to make Skardu of Gilgit Baltistan as a skiing capital of the country.
---
People must stand with honest leader Imran Khan: Pervaiz Khattak
---
Minister for Defence Pervaiz Khattak said that the people of Pakistan will have to stand with honest leader Imran Khan and the dissident PTI members will regret.
Khattak said that PM Imran Khan wants to save the country from thieves and looters, adding that the only problem of the opposition is that the Prime Minister wants to take the country forward. Neither Imran Khan is going anywhere nor anyone can remove him, he added.
He further said that after four days, they [opposition] will be seen crying, adding that there was nothing to be scared or panicking.
---
Three rats brought no-confidence motion against PM: Ali Zaidi
---
Addressing the charged crowd at Parade Ground, Federal Minister for Maritime Affairs Ali Zaidi said that Prime Minster (PM) Imran Khan has brought prosperity to the country.
He said that the three rats have brought no-confidence motion against the PM after the United Nations adopted a resolution introduced by Pakistan and designated March 15 as 'International Day to Combat Islamophobia'.
The minister said the opposition has tabled no-confidence motion against Prime Minister Imran Khan for saying Absolutely Not. He said Prime Minister Imran Khan always keeps Pakistan s interests supreme.
Ali Zaidi said that the party has not started yet, don't get tired, adding that we are proud that Imran Khan has become the leader of the Muslim Ummah. He said the three rats have joined hands and they have come up with no-confidence motion.
The minister while taking a dig at PPP co-chairman Asif Ali Zardari said, "One of the three rats is such a big rat that ate all the wheat of Sindh, destroyed the hospitals and schools of Sindh, I will hunt this rat under the leadership of Imran Khan."
---
We all stand with PM Imran, today's rally sends clear message: Murad Saeed
---
Addressing the historic Amr Bil Maroof (enjoin the good) rally at parade Ground in Islamabad, Federal Minister for Communications and Federal Minister for Postal Services Murad Saeed said that today's historic rally has sent a clear message to the corrupt elite that everyone is standing with Prime Minister Imran Khan.
He said that PM Imran Khan raised voice against Islamophobia all over the world. He said it was Imran Khan who refused to give bases to the US, said "Absolutely Not".
The minister asked the charged crowd about exposed the internal and external conspiracies and exposed the corrupt gangs.
Saeed went on to say that the country's sovereignty, honor will never be compromised and will fight internal and external conspiracies together with Imran Khan.
---
GDA's alliance with govt is based on principles: Fehmida Mirza
---
Speaking to the charged crowd at Parade Ground, Grand Democratic Alliance (GDA) leader and federal minister Dr Fehmida Mirza said that Sindh has the worst form of governance, there is a civilian dictatorship in the province and Sindh feels more deprived than Balochistan.
Federal Minister for Inter-Provincial Coordination Dr Fehmida slammed the Sindh government, saying 14 years have passed since the PPP government came to power in the province. During the 14 years of government, even clean drinking water was not provided to the people of the province. Why Sindh cannot be provided health card and the province is being ignored, she said.
Calling Sindh government a selected government, she said that the rulers of Sindh have kept the people of Sindh in chains of slavery, adding that the rulers of Sindh go to Punjab and say that they will give justice.
The minister said that there is a civilian dictatorship in Sindh, adding that those who could not provide justice to the PPP workers, how will they provide justice to other provinces.
"We are part of the cabinet, we were with the government till today, so we should stay with the government even then and in principle I decided to support the government, adding we stand on principles, the path of principles is easy," she said. No, the way to follow the rules is very difficult.
Dr. Fehmida Mirza said, "I am standing before the people today representing GDA, we bring an oath in Parliament and if we do not abide by this oath and suddenly conscience wakes up then what would be the future of Pakistan and democracy."
Condemning the horse-trading, she said this is lethal for the democracy. She said we are supporting Imran Khan for the sake of Pakistan. She urged the media to expose the bad governance of PPP in Sindh, which has increased sufferings of the people of the province.
---
Asad advises PM to call fresh polls to let opposition know people stand
---
Federal Minister for Planning Asad Umar said on Sunday that the people of Pakistan are with Prime Minister Imran Khan and proposed him to give a call for fresh elections to let the opposition know with whom people stand.
He said that the rulers with illicit wealth could not raise their eyes and speak, while Imran Khan fought the case of Islam in the United Nations with courage.
Asad Umar said Imran Khan is fighting the war of Pakistan, where people of the country can take their decisions independently.
He said we want good relations with everyone and can be partner in peace, but we are not ready for becoming slaves. He said Imran Khan has successfully raised Ummah s voice against the Islamophobia.
The minister went on to say that Fazlur Rehman says that Biden is the leader of the world, listen Fazlur Rehman, Biden is your leader, not ours.
---
Dissident MNAs will face 'exemplary' humiliation by public: Fawad Ch
---
While addressing a charged crowd at the Parade Ground where a huge number of people gathered for the Pakistan Tehreek-e-Insaf's (PTI) historic public meeting, Federal Minister for Information and Broadcasting Fawad Chaudhry, taking the PTI's dissident MNAs to the task, said those who stabbed the prime minister in back would face "exemplary" humiliation at the public's hands.
"I dare those who hide in Islamabad to go to their constituencies… you will be beaten by hundred of shoes in every one minute," he said.
He said a huge crowd of people at the Parade Ground showed that the entire nation stood by Prime Minister Imran Khan who did not care about the power.
Ousting the prime minister from the power would affect the masses, he added. Fawad said the prime minister was not only striving for the welfare of masses but also the entire Muslim Ummah.
He said the PTI only wanted to remain in public which brought the party into the government. It had no interest in the power, the minister added.
He said those who wanted to oust the prime minister would have to go through from 200 million people who stood behind him like a rock.
---
AJK PM terms Imran Khan as great asset of Muslim world
---
Terming Imran Khan as a great asset of the Muslim world, the Prime Minister Azad Jammu and Kashmir (AJK) Sardar Abdul Qayyum Niazi has said that the people of Pakistan and Kashmir were proud of their leader whose tireless campaign led to UNGA s approval to a resolution by setting March 15 as international day to combat Islamophobia.
"By getting this landmark resolution adopted by Prime Minister Imran Khan has fulfilled his obligations as a true lover of the Prophet (SAW)", the AJK PM said while addressing a massive public rally at Parade Ground in Islamabad.
Speaking on the occasion, he said that the people of Pakistan, Kashmir and all across the Muslim world were proud of him (IK). "Sea of people present at Parade ground today, have reposed their full faith in the leadership of Imran Khan", he said.
Thanking the people of AJK for their full participation in the rally, the AJK Premier said that he owed a debt of gratitude to the people who came from different cities and towns of Azad Kashmir to pay tributes to benefactor and ambassador of Kashmir.
Terming Imran Khan as the symbol of Pakistan s bright future, he said Pakistan was in dire need to have a fearless, honest and courageous leader like Imran Khan.
"Imran Khan is a naked sword against those who looted national wealth", the PM said, adding that in the presence of Imran Khan no country can dare to cast an evil eye on Pakistan.
Referring to the rising popularity of PM Khan, the AJK premier said, "Today, pictures of my leader have been posted in occupied Kashmir".
He said that after Quad-e-Azam Muhammad Ali Jinnah the pictures of Imran Khan and Pakistan Army Chief General Qamar Javed Bajwa have been posted in Srinagar, which he said was "an honor for us".
---
Today is battle for Pakistan not PTI: PM Imran
---
"Today is a battle for Pakistan and not for PTI, it's a battle for the future of our nation," Prime Minister Imran Khan said in a message issued hours before the gathering.
The premier urged the citizens willing to attend the rally to leave their homes early as there would be blockages on the roads. He said that he fears that the people might not reach the venue on time.
"We are out to make Pakistan's history today," PM Imran Khan concluded.
The no-confidence motion against Imran Khan was submitted by opposition parties on March 8 after the PPP's long march in Islamabad. The Opposition is confident that its motion would be carried as many PTI lawmakers have come out in the open against PM Imran Khan.