Army to be deployed in KP for second phase of LG polls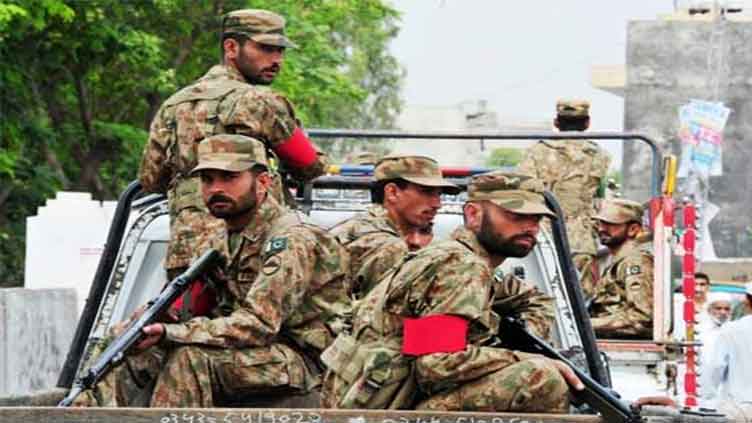 Pakistan
Army to be deployed in KP for second phase of LG polls
ISLAMABAD (Dunya News) - During the second phase of the Local Government (LG) elections in Khyber Pakhtunkhwa (KP), the Election Commission of Pakistan (ECP) has announced to deploy soldiers of Pakistan Army to maintain the law and order situation across the province.
According to details, the provincial government made the decision under the light of various leaked videos and pictures of misconduct during the KP LG polls phase one. The allocation of police along with army personnel will not only ensure the safety of citizens but also promote the culture of practicing citizens' right.
Moreover the ECP has also sent notification to the Ministry of Defense and has emphasized that people found guilty of the misconduct will have to face legal proceedings against them.
Earlier on Dec 22, Election Commission of Pakistan (ECP) had directed the candidates who emerged victorious in Khyber Pakhtunkhwa (KP) local government elections to submit details of election expenses.
The commission spokesman had warned of not issuing victory notification if the candidates fail to submit the required documents within 10 days.
On the other hand, according to the results of 58 out of 64 seats, Jamiat Ulema-e-Islam-Fazl (JUI-F) has won 21 seats of Tehsil Chairmen including three mayoral elections.
So far, Pakistan Tehreek-e-Insaf (PTI) won 14 Tehsil Chairman seats while Awami National Party (ANP) bagged 8 seats including one Mayor and seven Tehsil Chairmen seats.
Seven independent candidates won the election of Tehsil Chairman. Pakistan Muslim League-N won 3 seats, Jamaat-e-Islami won 2 seats, Pakistan Peoples Party (PPP) and Tehreek-e-Islah Pakistan won one seat each.