Common man will bear extra burden of only Rs 2 billion in taxes: Shaukat Tarin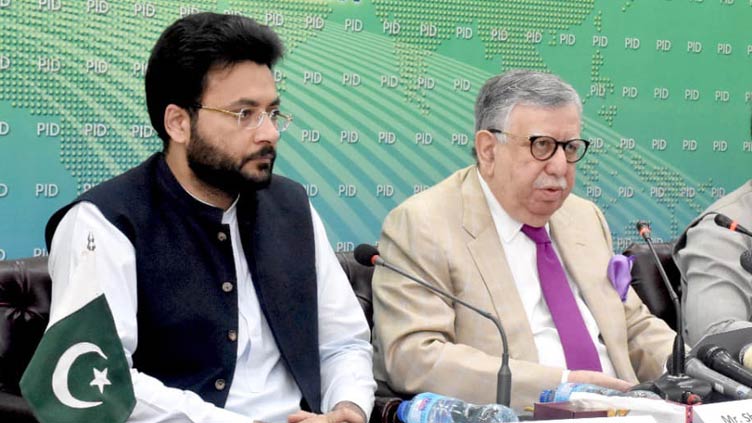 Pakistan
Tarin said no sales tax imposed under Finance (Supplementary) Bill, 2021 on tractors, medicines
ISLAMABAD (Dunya News) – Finance Minister Shaukat Tarin said on Thursday that the tax exemption of Rs 343 billion has been revised in the Finance (Supplementary) Bill 2021 and the common man would have to bear burden of Rs 2 billion extra in taxes.
Addressing a press conference flanked by Minister of State for Information Farrukh Habib and Chairman Federal Board of Revenue Dr Muhammad Ashfaq in Islamabad after presenting the supplementary finance bill in the National Assembly on Thursday, he said that the government has proposed only Rs 2 billion tax exemptions on the items that can be related to the common man which would have a very negligible impact on inflation.
The finance minister said the government had proposed to withdraw tax exemptions of Rs 343 billion out of which Rs 272 billion taxes were refundable or adjustable, while the actual new taxes were only Rs 71 billion out of which Rs 69 billion taxes were about luxury items.
Tarin said that the rumors of putting entire burden on the people with the bill are baseless, adding that speculations are rife over the bill. He said IMF wants the government to impose sales tax on everyone but the tax exemption of Rs 70 billion included luxury items.
The minister went on to say that the common man will have to pay only Rs 2 billion in taxes, adding that they had a clash with the IMF. "We told the international lender that the government will not impose more taxes on those who already pay taxes," he said.
He further said that the President will approve the SBP board, adding that the central bank will also be answerable to the parliament's standing committee and we have given autonomy to the parliament.
The minister said the Rs 112 billion tax exemptions on machinery, and Rs 160 billion tax exemptions on pharma sector would totally be refundable or adjustable.
He said the International Monetary Fund (IMF) had asked us to impose Rs 700 billion new taxes but "We defended not to impose taxes on a number of food and other essential items and brought it down to Rs 343 billion".
"In the past unjustified taxes were exempted on various items that were being withdrawn," he said and added no sales tax has been imposed under the bill on tractors, medicines and fertilizers.