Pakistan's envoy, Hamid Karzai, Dr Abdullah discuss situation in Afghanistan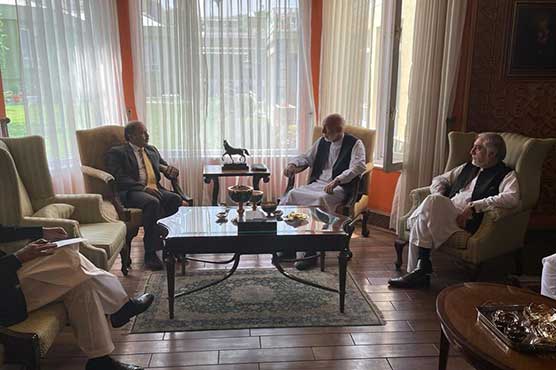 I had constructive discussions on efforts for lasting stability in Afghanistan, the ambassador said.
ISLAMABAD (Dunya News) – Ambassador of Pakistan to Afghanistan Mansoor Ahmad Khan on Thursday called on former Afghan president Hamid Karzai and High Council for National Reconciliation (HCNR) chief Dr Abdullah Abdulah.
"I had constructive discussions on efforts for lasting stability in Afghanistan," the ambassador wrote on his twitter handle.
— Mansoor Ahmad Khan (@ambmansoorkhan) August 19, 2021
Ambassador Mansoor Ahmad Khan returned to Kabul on Wednesday by road via the Torkham border, a key crossing point between Pakistan and Afghanistan, Interior Minister Sheikh Rashid Ahmed said.
Khan returned to Islamabad on July 19, a day after the former Afghan government called back its ambassador and senior diplomats after the alleged kidnapping of the Afghan envoy s daughter in Islamabad.
Former Afghan president Hamid Karzai also endorsed the meeting in his tweet from his official handle and said the current situation in the country and the political process, including the legitimacy of the nation and the international community.
— Hamid Karzai (@KarzaiH) August 19, 2021
On Tuesday, Prime Minister Imran Khan met a delegation of political leaders from Afghanistan and reaffirmed Pakistan's commitment to a peaceful and stable Afghanistan and also assured the country's steadfast support for efforts in that direction.
Imran Khan expressed strong support and solidarity for the fraternal people of Afghanistan, linked to the people of Pakistan through immutable bonds of faith, history, geography, culture and kin-ship.
He underlined that no other country was more desirous of peace and stability in Afghanistan than Pakistan.
The premier went on to say that in the current situation, great responsibility rested on the Afghan leaders to work constructively together to lead Afghanistan on the path of sustainable peace, stability and development.
He underscored the importance of all sides working to secure an inclusive political solution.
The delegation members thanked the Prime Minister for receiving them and appreciated Pakistan's support for the peace efforts.
They emphasized the multi-ethnic nature of Afghan society and the importance of an inclusive dispensation.
The Afghan delegation also reiterated the desire to further strengthen the brotherly relationship between Afghanistan and Pakistan.