Published On 17 July,2021 05:11 pm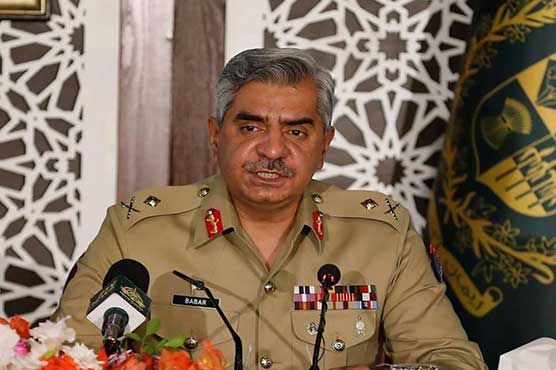 The DG ISPR said that peace in Pakistan depends on situation in Afghanistan
ISLAMABAD (Dunya News) – Inter-Services Public Relations (ISPR) Director General Major General Babar Iftikhar on Saturday termed the Afghan vice president's allegations regarding Pakistan Air Force (PAF) baseless and said that there was no organized terrorist infrastructure in Pakistan but the terrorists are hiding in Afghanistan.
Speaking to a private television channel on Saturday, he said that Pakistan army is keeping an eye on the situation in the region and Pakistan is seriously playing role for the success of Afghan peace process. Pakistan will be directly affected if situation in Afghanistan worsened and a peaceful Afghanistan will have a positive impact on Pakistan, he said.
The DG ISPR said that peace in Pakistan depends on situation in Afghanistan, adding that if the situation in Afghanistan deteriorates, there is a danger of reactivation of terrorists groups and sleeper cells in Pakistan and terrorist organizations can also form an alliance.
Maj Gen Babar Iftikhar went on to say that Pakistan is not a guarantor of peace in Afghanistan, adding that this decision is to be made by rival Afghan parties and we have made preparations for the future situation.
He further said we are working hard according to the vision of Chief of Army Staff (COAS) General Qamar Javed Bajwa and work on fencing the western border is in full swing and hundreds of posts have been constructed. He said an advanced bio-system has also been installed, while illegal crossing points have been sealed and the capacity of Frontier Corps (FC) has also been enhanced.
"Police and Levies personnel have been trained by the Pakistan Army in Balochistan and the former tribal areas," he said.
He said all illegal crossing points have been sealed along the Pak-Afghan border and Pakistan Army's regular troops are manning crossings along Pak-Afghan Border. While elaborating the security risks, DG ISPR said these include restoration of terrorist groups in Balochistan and then sleeper cells that can nexus with hostile agencies.
He said the main purpose of India s funding to Afghanistan was to develop their roots in that country and exploit it for destabilizing Pakistan. He said Pakistan has presented a dossier in this regard in November last year and given evidence of Indian terrorism and clandestine designs against it.
Responding to the recent allegations of Afghan Vice President Amrullah Saleh against Pakistan Air Force Supporting Taliban, he said, it is an absolutely a false statement and there are no such measures taken by Pakistan Air Force.
He said recently during clashes with Taliban, around 40 Afghan Army soldiers crossed towards our side in Bajaur and we gave them a soldierly protocol with food, gifts and later handed them over to Afghan forces.