Published On 21 June,2021 08:26 pm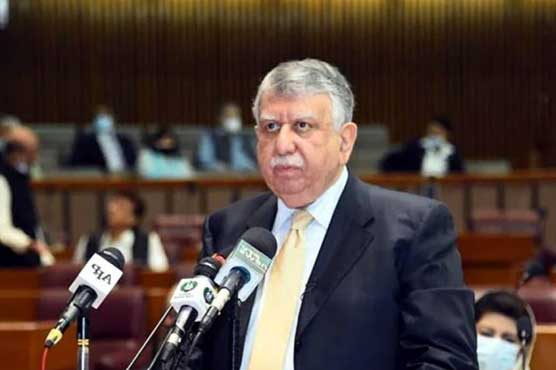 Shaukat Tarin said due to the steps taken by the prime minister, the economy has started improving,
ISLAMABAD (Dunya News) – Minister for Finance and Revenue Shaukat Tarin on Monday asked why the previous government left Rs20 billion deficit if they had an excellent tenure and the PTI government had no machine to hide dollars.
Participating in the budget debate in the National Assembly on Monday, he said, "I know what the previous governments did, the budget should not be criticized unnecessarily."
The minister said the prices of agricultural commodities have gone up sharply all over the world but in the budget we have taken care of the country s industries and the agricultural sector along with the poor and for the first time, all banks in the country are providing easy loans for house construction.
Responding to points raised by some parliamentarians, he said ironically, the agriculture sector was grossly ignored in the last eight years, which made the country a net importer of food items. He said we import 70 percent of pulses.
He said now the government is determined to revamp the agriculture sector so that Pakistan can be made self-sufficient in food production. He said 260 billion rupees have been proposed in the budget for Ehsaas Program, which is the fourth best social protection network in the world as per a report of the World Bank.
Tarin went on to say that now the government's focus is on increasing exports and the housing industry will take off. He said the housing industry will run 40 industries, adding that Prime Minister Imran Khan paid attention to the housing industries, the opposition should give him some credit. The Ehsas program is ranked fourth in the world.
Regarding next budget, the finance minister said it is the PTI government, which thought about the poor people for the first time in the history of Pakistan. He said the government successfully eliminated the Current Account Deficit of around 20 billion dollars and now it is determined to strengthen agriculture and the industry.
"All possible cooperation will be extended to strengthen the local industry," he said and added we are focusing on enhancing exports to ensure sustainable economic growth.
"We are working on agriculture," the finance minister said. If we give loans to farmers then production will increase. We will put the local industry on its feet. We also want to increase IT exports.
Shaukat Tarin said that due to the steps taken by the prime minister, the economy has started improving, adding that the government should not give political color to the current budget and should not call us liars. "Food items became expensive because we did not have enough wheat and sugar and in addition, 70% of pulses are imported. Nothing has been done in agriculture in the last 20 years."