Published On 11 June,2021 10:40 pm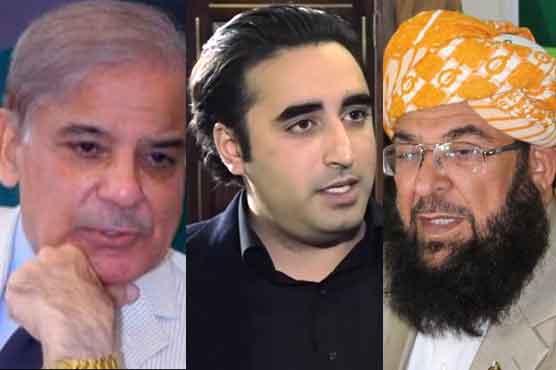 Shehbaz Sharif said poverty and unemployment are rampant in the country
ISLAMABAD (Dunya News) – The opposition parties on Friday categorically rejected the budget 2021-22 unveiled by Minister for Finance and Revenue Shaukat Tarin with an outlay of Rs 8,487 billion.
Talking to media after budget session, Leader of Opposition in National Assembly and Pakistan Muslim League-Nawaz (PML-N) president Shehbaz Sharif flanked by Pakistan Peoples' Party (PPP) chairman Bilawal Bhutto Zardari said that the government given wrong figures and made false claims. The poor people of the country are dying because of hunger and the government says economy is growing.
"Poverty and unemployment are rampant in the country," he said and added the worst load shedding is happening today.
The PML-N president said that the opposition will give tough time to the government against passage of budget, adding that we will adopt a joint strategy for no-confidence motion against the deputy speaker.
On the occasion, PPP chairman Bilawal Bhutto Zardari said that it felt like the budget presented Shaukat Tarin was of another country and the finance minister was talking about economy another country.
In a country where the people face historical poverty, inflation and unemployment, the talk of economic development by the Prime Minister and the Finance Minister of that country does not carry much weight, he said.
He said as promised, we have handed over all the members of the National Assembly to the opposition leader to block the way of the budget. Shahbaz Sharif should use the votes of our members against the government.
Meanwhile, Jamiat Ulema-e-Islam-Fazl (JUI-F) leader Moulana Ghafoor Haideri while rejected the budget 2021-22 said that no development plan has been announced for Sindh, Punjab and Khyber Pakhtunkhwa. He is with the government employees on the issue of salaries.
Earlier today, commenting on the Economic Survey 2021, Bilawal said record rise in unemployment rate in the country is the real image of change brought by Imran Khan's government.
He said that the people of Pakistan are burried under the burden of PTIMF (Pakistan Tehreek-e-Insaf & International Monetary Fund) budget.
Bilawal Bhutto said that poverty and unemployment were not mentioned in the survey because there has been a historic rise in it. There has been a historic increase in poverty in Khyber Pakhtunkhwa that is why it was not mentioned in the economic survey.
He further said that hiding statistics regarding poverty and unemployment and making excuses for inflation was not the solution for the prevailing issues. He said if public issues will not be properly identified in the economic survey, then how will they be resolved.
"People are paying the high price of Imran Khan s incompetence in the form of inflation, unemployment and poverty," he concluded.