Published On 04 June,2021 11:09 pm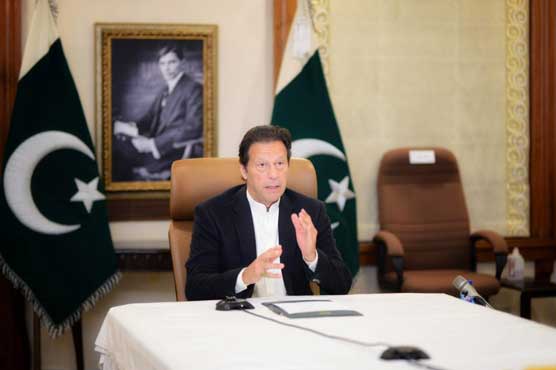 The prime minister said that mutual trade was essential to eradicate poverty from the region.
ISLAMABAD (Dunya News) – Prime Minister Imran Khan on Friday said that Pakistan is ready to restart talks with arch-rival India if it restores previous status of the occupied Kashmir.
In an interview with foreign news agency, he said that he has always supported civilized and free relations with India but New Delhi crossed the red line by changing the status of occupied Kashmir.
The prime minister said that mutual trade was essential to eradicate poverty from the region.
"It is common sense that if you want to reduce poverty in the subcontinent, the best way is to trade with each other," he said, referring to the example of the European Union.
Pakistan in March deferred a decision by its top economic decision-making body to restart trade with India until Delhi reviewed its moves in Kashmir.
It is pertinent to mention here that in an earlier statement, Imran Khan had said that normalization of relations with India before the restoration of Kashmir s special constitutional status, which was abolished in August 2019, would be a betrayal with Kashmiris.
Regarding Afghanistan, PM Imran said Pakistan is pushing for a political settlement in Afghanistan before foreign troops leave later this year, to reduce the risk of civil war in its western neighbour.
The United States has said it will withdraw all its troops from Afghanistan on Sept. 11 after a two-decade presence. More than 20 allied countries plan to follow suit.
"There is a lot of fear right now in Pakistan and I assure you that we are trying our level best that there is some sort of political settlement before the Americans leave," Khan said.
Khan said Pakistan would suffer the most, after Afghanistan itself, if there was civil war and a refugee crisis. "And then there would be pressure on us to jump in and become a part of it," Khan said.
He said his government had changed Pakistan s decades-long policy of pushing for "strategic depth" in Afghanistan to ensure that there was a friendly government there.
"Any Afghan government chosen by the people is who Pakistan should deal with," Khan said, adding that Pakistan "should not try to do any manipulation in Afghanistan".