Inquiry against me shouldn't be done over specific phone call: Jahangir Tareen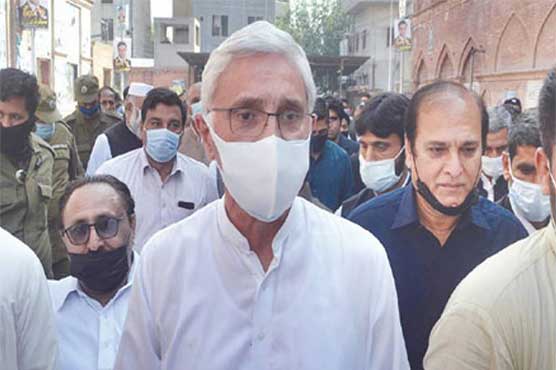 Jahangir Tareen got bails from Sessions and Banking courts in three cases.
LAHORE (Dunya News) – Jahangir Tareen, the estranged Pakistan Tehreek-e-Insaf (PTI) leader, Saturday said inquiry should definitely be done against him but not over a specific phone call.
After getting bails from Sessions and Banking Courts in Lahore in three cases, the PTI leader talked to media and alleged the investigation team of being partial and controversial. He demanded justice from PTI.
Jahangir Tareen said he will appear before courts whenever he is summoned and vowed never to escape the law.
---
Read also: Jahangir Tareen, Ali Tareen granted interim bails in three cases
---
Raja Riaz Ahmad Khan said, "We are PTI's sympathizers and not blackmailers. Prime Minister Imran Khan is our leader and we want to see him stronger. There are some people around the premier who are targeting Jahangir Tareen. We are not seeking any relaxation and will come out victorious from courts."
Nauman Ahmad Langrial said, "Jahangir Tareen brought us in PTI respectfully and we will support him to strengthen the party. Those who want to weaken PTI actually want to weaken Pakistan. I appeal to all PTI members to stand with Jahangir Tareen."