Jahangir Tareen, Ali Tareen's interim bails extended in three cases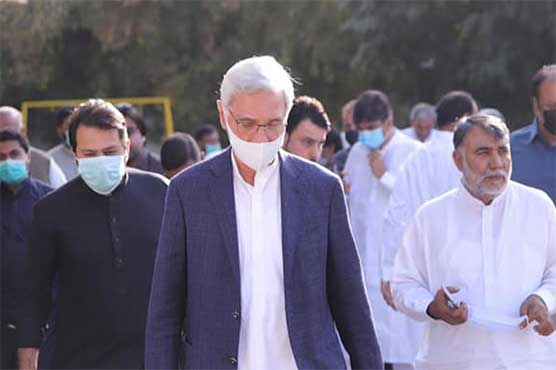 Jahangir Tareen and Ali Tareen have been granted bails by Sessions and Banking Courts.
LAHORE (Dunya News) – Estranged Pakistan Tehreek-e-Insaf (PTI) leader Jahangir Tareen and his son Ali Tareen have on Saturday been granted interim bails in three cases – two by Sessions Court and one by Banking Court in Lahore.
Jahangir Tareen and Ali Tareen appeared before the Sessions Court in two cases pertaining to money laundering through sugar mills. Their counsel requested the court to grant bail for a longer period owing to the coronavirus situation.
The lawyer maintained that the Federal Investigation Agency (FIA) had summoned his clients on Friday and is likely to call them to its office again. Additional Sessions Judge Hamid Hussain inquired from the FIA whether it had any objection over the request, to which the investigation agency replied in negative.
The court granted interim bails to Tareens till April 22. Furthermore, the judge ordered the FIA to keep the investigation transparent and to include all suspects in the interrogation.
The Banking Court then conducted hearing on fake bank accounts case against Jahangir Tareen and Ali Tareen. The FIA raised objection over the court's jurisdiction. The court ordered all parties to argue over the matter of its authority in the next hearing while granting interim bails to the suspects till April 17.
Jahangir Tareen later talked to media and said inquiry should definitely be done against him but not over a specific phone call. He alleged the investigation team of being partial and controversial and demanded justice from PTI.
Jahangir Tareen said he will appear before courts whenever he is summoned and vowed never to escape the law.
Raja Riaz Ahmad Khan said, "We are PTI's sympathizers and not blackmailers. Prime Minister Imran Khan is our leader and we want to see him stronger. There are some people around the premier who are targeting Jahangir Tareen. We are not seeking any relaxation and will come out victorious from courts."
Nauman Ahmad Langrial said, "Jahangir Tareen brought us in PTI respectfully and we will support him to strengthen the party. Those who want to weaken PTI actually want to weaken Pakistan. I appeal to all PTI members to stand with Jahangir Tareen."