Published On 08 April,2021 11:05 pm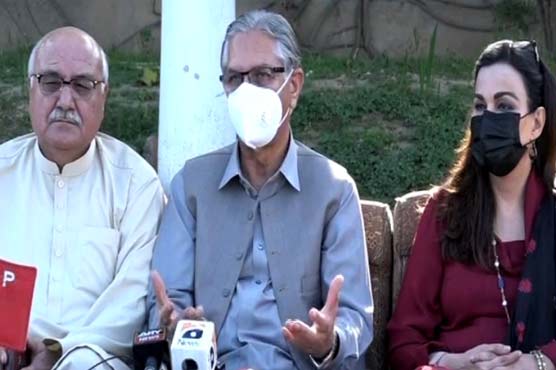 He said that the fate of the PDM would be decided by the PPP Central Executive Committee
CHARSADDA (Dunya News) – Pakistan Peoples' Party (PPP) senior leader Syed Nayyer Bukhari on Thursday accused the senior vice president of the Pakistan Muslim League-Nawaz (PML-N) of laying groundwork for breaking the Pakistan Democratic Movement (PDM) – an alliance of the 11 opposition parties.
Addressing a press conference in Charsadda on Thursday, he said that the PPP is committed to the charter of PDM but perhaps those who had issued show cause notice are not committed. "We they are ready to form any alliance against incompetent rulers," he said.
He said that the fate of the PDM would be decided by the PPP Central Executive Committee, adding that the opposition's alliance was very important that was formed to oust an incompetent ruler.
Speaking on the occasion, Awami National Party (ANP) leader Mian Iftikhar Hussain said that the PDM was disbanded, ANP did not part ways, adding that do not know why they were in a hurry.
ANP Secretary General Mian Iftikhar Hussain said that the PDM was a political alliance for restoration of democracy, adding that they have not made the decision in haste but the ANP made the decision keeping in view its 100-year history.
The PPP delegation visited Wali Bagh Charsadda on the directions of party chairman Bilawal Bhutto Zardari. The delegation also met ANP chief Asfandyar Wali and inquired about his health.
The delegation conveyed Bilawal Bhutto Zardari's message to the ANP leadership.
The delegation included PPP Secretary General Nayyar Bukhari, Senator Sherry Rehman, Faisal Karim Kundi and Humayun Khan. The delegation was received by Provincial President Aimal Wali Khan and Secretary General Mian Iftikhar Hussain.