PM Imran has completely recovered from coronavirus: Faisal Javed Khan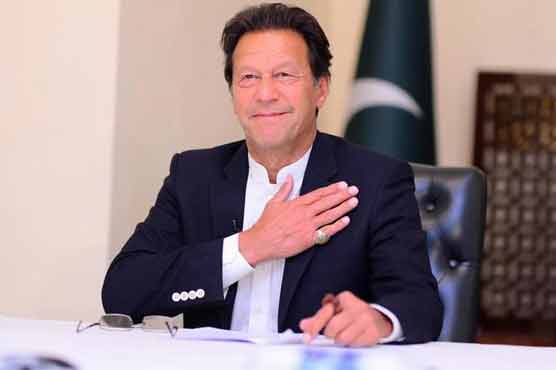 He said the prime minister has resumed official duties partially as per doctors' instructions
ISLAMABAD (Dunya News) – Pakistan Tehreek-e-Insaf (PTI) leader Senator Faisal Javed on Tuesday said that Prime Minister Imran Khan has completely recovered from the coronavirus.
The PTI took to the twitter and said that the prime minister has resumed official duties partially as per doctors instructions keeping in view national and international guidelines 10 days after he tested positive for the infection.
Alhamdulillah, Prime Minister Imran Khan has fully recovered. He has
resumed work gradually & started building up his work routine as per doctors instructions keeping in view national & intl guidelines. May ALLAH grant health to all. Ameen. Take care of urself & others #StaySafe

— Faisal Javed Khan (@FaisalJavedKhan) March 30, 2021
On March 20, Prime Minister Imran Khan and his wife Bushra Bibi had been tested positive for the Covid-19, two days after the premier got the first shot of a vaccine.
Special Assistant to the Prime Minister on National Health Services, Regulations and Coordination Dr Faisal Sultan had confirmed that Khan, 68, had contracted the coronavirus on a day when the country registered the highest number of COVID-19 cases since July last year.
The 68-year-old had been "self-isolating at home", the minister, Faisal Sultan, tweeted.
Pakistan started its COVID-19 vaccination drive in February after the first arrival of China-gifted vaccine doses, with frontline health workers given the priority for inoculation, while on March 10, the country started vaccination for the general public, starting with people aged 60 and above.
On Monday, President Dr Arif Alvi and Minister for Defence Pervaiz Khattak have tested positive for Covid-19.
Taking to twitter president confirmed that he has tested positive for Coronavirus. He said that he had first dose of vaccine, but antibodies start developing after second dose which was due in a week.
He also urged people to remain careful and prayed for all the Covid-19 affectees.
— Dr. Arif Alvi (@ArifAlvi) March 29, 2021
Meanwhile, Governor Sindh Imran Ismail in a tweet on Monday said that Defence Minister Pevaiz Khattak had been diagnosed with Covid-19 positive.
"Perwaiz Khatak is diagnosed with Covid positive. Get well soon PK," Imran Ismail said in his tweet.
— Imran Ismail (@ImranIsmailPTI) March 29, 2021