Military might displayed at Pakistan Day Parade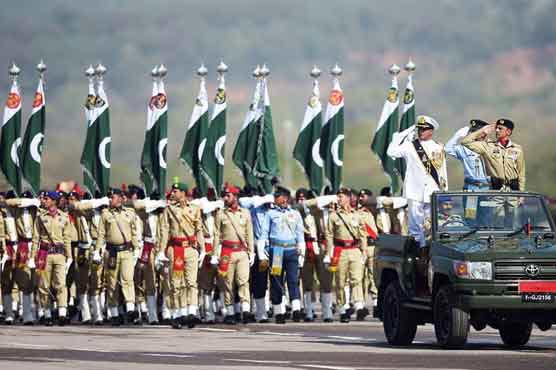 Contingents of the three armed forces and other security forces conducted the march past.
ISLAMABAD (Dunya News) - The three wings of the armed forces displayed their professionalism and military prowess at the spectacular Pakistan Day Military Parade held at the Parade Avenue in Islamabad today (Thursday).
The impressive ceremony started with the fly past of fighter jets of Pakistan Air Force and Pakistan Navy led by Air Chief Zaheer Ahmad Babar Sidhu presenting salute to the chief guest President Arif Alvi.
Formations of fighter jets including F-16, JF 17 Thunder, Mirage, AWACs. C-130 and P-3C Orion participated in the fly past.
Contingents of Pakistan Army, Navy, Pakistan Air Force, Special Services Groups, Frontier Corps, Rangers, Islamabad Police, Frontier Constabulary, Airport Security Force and Boys Scouts, marched past the dais presenting salute to the chief guest.
Amidst applause by the audience, JF-17 and formations of Sherdils presented breath taking aerobatics spreading range of colours in the skies.
As a mark of strong bonds between Pakistan and Turkey, a Turkish fighter jet also presented a whole range of dazzling manoeuvres.
A Turkish military band on the occasion presented different tunes including that of Dil Dil Pakistan, Jaan Jaan Pakistan.
Floats depicted culture of Jammu and Kashmir, Gilgit Baltistan and the four provinces.
The floats of Ministry of Science and Technology and the frontline healthcare workers against Covid-19 were also part of the parade.
Addressing Pakistan Day ceremony, President of Pakistan Dr Arif Alvi made it clear that enemy should not take country's desire for peace as its weakness as country is fully capable to respond to any provocation. He reiterated that peace in the region is link with fair resolution of Kashmir dispute.
Dr Arif Alvi thanked representatives of friendly countries and others for attending the ceremony and congratulated armed force of Pakistan for conducting a spectacular parade.
He said that in only seven years after Pakistan resolution was passed in 1940, with struggle of Quaid-e-Azam Muhammad Ali Jinnah, the dream of Allama Iqbal became a reality and now Pakistan is a nuclear power. Our brave armed forces are reflection of nation's pride and honor as they protected the country in every difficult situation, he added.
Talking about the pandemic, the President said that whole world is facing challenge of coronavirus but Pakistan, despite limited resources controlled the spread earlier and will manage to control the virus again.
President emphasized that leadership of South Asia should shun politics of prejudice and religious extremism. He while talking about Kashmir issue, said that whole world including Pakistan is concerned about situation in occupied Kashmir.
Dr Arif Alvi vowed to continue raising the issue at every forum and said that Indian August 5, 2019 steps are violation of United Nations resolutions.