Asif Zardari apologises to Maryam over heated debate in PDM meeting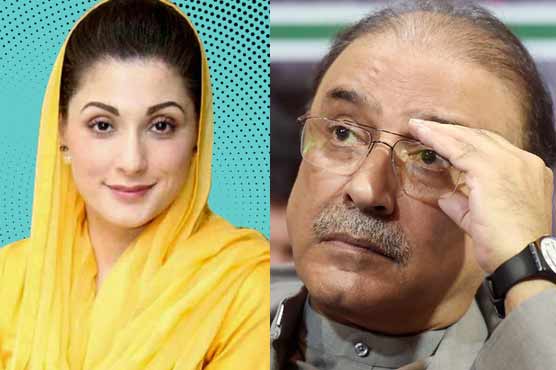 The PPP co-chairman told Maryam Nawaz that his intention was not to hurt her
ISLAMABAD (Dunya News) – Pakistan Peoples' Party (PPP) co-chairman Asif Ali Zardari on apologized to Pakistan Muslim League-Nawaz (PML-N) vice president Maryam Nawaz over heated debate in the Pakistan Democratic Movement (PDM) meeting.
According to sources, following the heated debate in the meeting, the PPP co-chairman told Maryam Nawaz that his intention was not to hurt her.
Maryam Nawaz said, "I spoke to you considering myself as Aseefa Bhutto and Bakhtawar Bhutto, adding that it was not my intention to offend you, nor was it my intention to make you apologize."
Earlier, the PML-N Vice President Maryam Nawaz sought guarantee of her father Nawaz Sharif's security from PPP Co-Chairman Asif Ali Zardari over his return to Pakistan.
"Nawaz Sharif can fly to Pakistan the next hour if you give guarantee of his security," said Maryam while responding to Asif Ali Zardari's demand of Nawaz Sharif's return to Pakistan.
Maryam said that her father suffered heart-attack twice in the jail. She said PPP was against resignation but the PML-N supported it.