Published On 08 March,2021 11:30 pm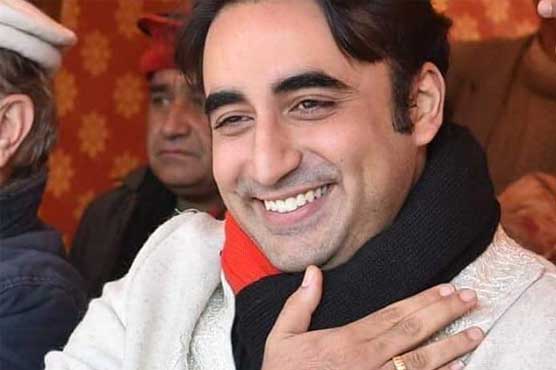 He said the government wanted to stop Syed Yousaf Raza Gilani through illegal means
ISLAMABAD (Dunya News) – Hours after Election Commission of Pakistan (ECP) fixed for hearing a petition against Former prime minister and newly elected Senator Syed Yousuf Raza Gillani, Pakistan Peoples' Party (PPP) chairman Bilawal Bhutto Zardari on Monday said that the government wanted to stop Syed Yousaf Raza Gilani through illegal means but hoped that the ECP will not take any unconstitutional step.
Addressing a press conference flanked by the PDM chairman Fazlur Rehman, PML-N vice president Maryam Nawaz and others after meeting in Islamabad, he said that the PTI has not yet announced the name of candidate for the forthcoming election of the Senate deputy chairman and the joint opposition will win Senate chairman election on March 12.
The PPP chairman said he had visited PML-Q chief Chaudhry Shujjat's residence yesterday to inquire about his health and also held meeting with PML-N leader Hamza Shahbaz after his release from jail.
"Our candidate would emerge winner if transparent elections are held," he said and added transparent elections is their demand. The name of Faizabad is being taken for the long march which is in the twin cities, he said.
Bilawal Bhutto said that the election of Chairman Senate is to be held in four days and we want our candidate to win Senate chairman election to name another victory, adding that the PPP is committed to PDM s roadmap.
Earlier, Pakistan Democratic Movement (PDM) on Monday nominated newly elected Pakistan Peoples' Party (PPP) Senator Syed Yousaf Raza Gilani as joint candidate in the forthcoming Senate chairman election.
A meeting of Pakistan Democratic Movement (PDM) was held in the federal capital under the chairmanship of JUI-F chief Maulana Fazlur Rehman. The meeting was attended by Pakistan People s Party (PPP) Chairman Bilawal Bhutto Zardari and PML-N Vice President Maryam Nawaz among others.
Mehmood Khan Achakzai, Aftab Sherpao, Usman Kakar, newly elected Senator Sajid Mir, ANP s Mian Iftikhar Hussain, Senator Yousuf Raza Gilani, former PM Shahid Khaqan Abbasi and Raja Pervez Ashraf also participated in meeting.
Matters pertaining to the proposed candidates of joint opposition for the forthcoming elections of the Senate Chairman and deputy Chairman came under discussion during the meeting, while situation arising after PM Imran's vote of confidence and over all political situation were also discussed.
Sources said that the matters regarding anti-government movement of the 11-party opposition alliance and in-house change in Punjab were also reviewed in the huddle.
According to sources, the name of Deputy Chairman Senate is not likely to be announced in the PDM's meeting today and the matter of naming the deputy chairman is likely to be referred to the steering committee.
During the meeting, BNP Mengal chief Sardar Akhtar Mengal suggested that the decision for the deputy chairman should be left to the steering wheel.