Published On 08 March,2021 07:48 pm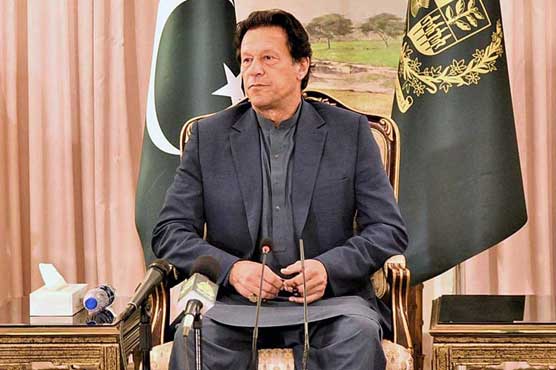 Imran Khan said that whole nation has witnessed the way opposition used money in Senate elections
ISLAMABAD (Dunya News) – A meeting of the government spokespersons with Prime Minister Imran Khan in chair on Monday strongly condemned statement of Pakistan Muslim League-Nawaz (PML-N) vice president Maryam Nawaz targeting country's institutions.
During the meeting of government spokespersons chaired by Prime Minister Imran Khan, matters pertaining to political situation after the Senate elections and the vote of confidence were discussed. Consultations were also held on the strategy for the forthcoming Senate elections of the chairman and deputy chairman.
The meeting also reviewed Election Act and discussed possible legal action over PML-N vice-president Maryam Nawaz s statement on running tickets during Senate elections. The meeting also reviewed Maryam Nawaz s statements regarding state institutions and strongly condemned her statement.
The spokespersons said that the celebrations were held over stolen election, adding that how did Fauzia Arshad succeed if the House did not have confidence.
During the meeting, questions were also asked on the administrative matters of the Election Commission, and it was said that the ECP did not show responsibility.
Speaking on the occasion, PM Imran Khan said that the mortality of the nation has been destroyed, it has become a tradition to come to power by spending money, then make money by robbing the people with both hands, corrupt and give speeches like Nelson Mandela. "Some journalists even approached high court to seek permission for Mandela to speak."
Earlier, Pakistan Tehreek-e-Insaf (PTI) Senators Faisal Javed and Zeeshan Khanzada called on PM Imran Khan.
On the occasion, the prime minister said that Sadiq Sanjarani is our strong candidate and he will succeed, adding that the opposition has failed and will again fail in the future. PDMs will face failure everywhere.
Imran Khan said that the whole nation has witnessed the way opposition used money in Senate elections, adding that he will close all the doors for corruption through electoral reforms and efforts are underway to stop usage of money in the future.