Published On 08 March,2021 04:42 pm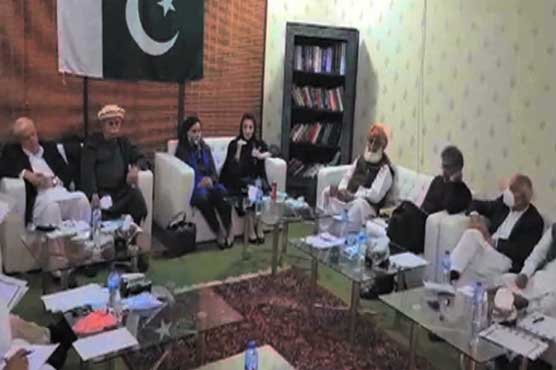 According to the recommendations, the long march will start from Karachi on March 26
ISLAMABAD (Dunya News) – The sit-in of the opposition parties after long march would continue until the goals are achieved, Pakistan Democratic Movement (PDM) said in its recommendations on Monday.
A meeting of Pakistan Democratic Movement (PDM) was held in the federal capital under the chairmanship of JUI-F chief Maulana Fazlur Rehman. The meeting was attended by Pakistan People s Party (PPP) Chairman Bilawal Bhutto Zardari and PML-N Vice President Maryam Nawaz among others.
Matters pertaining to the proposed candidates of joint opposition for the forthcoming elections of the Senate Chairman and deputy Chairman came under discussion during the meeting.
Sources said that the matters regarding anti-government movement of the 11-party opposition alliance and in-house change in Punjab were also reviewed in the huddle.
Sources said that the recommendations of the PDM's committee have also been presented in the meeting. According to the recommendations, the long march will start from Karachi on March 26 with a public gathering.
All the processions will reach Islamabad by 3 pm on March 30.
According to the recommendations, all parties should be mobilized to bring in as many people as possible. A central camp will be set up in Faizabad to welcome the participants. Camps will be set up at Rawat Chowk, Chungi No 26, Bara Kahu and other important places. The parties will organize their processions separately.
The recommendations further stated that, all parties will bear their own expenses. The senior leadership of PDM should immediately visit all the four provinces. A joint poem should be prepared to mobilize the people for the long march. Committees should be formed immediately. The various committees include Control Room, Media and Advertising Committee, Reception Committee.
According to the recommendations of the committee, the formation of security committee, facilities committee, legal committee, finance committee, program committee, food committee and medical committee are included.
Arrangements should be made before the participants arrive at the site of the sit-in. The sit-in will continue till the objective is achieved. Traders, farmers and trade unions should be contacted and fully mobilized.