Published On 26 January,2021 10:33 pm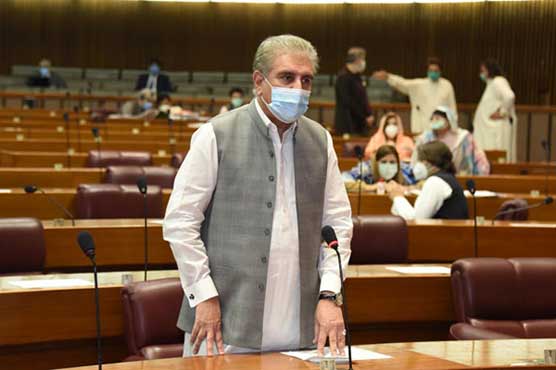 He said the way Kashmir issue has been raised globally in these two and a half years is exemplary.
ISLAMABAD (Dunya News) – Foreign Minister Shah Mahmood Qureshi on Tuesday while appealing the opposition not to do politics on the Kashmir issue said that no one can compromise Occupied Kashmir.
Speaking on the floor of the Lower House of the Parliament on Tuesday, he said that neither Pakistan has any back channel contact with India nor there are any prospects of bilateral trade between the two nuclear-armed countries.
"We are grateful to Saudi Arabia for holding Pakistan s hand in difficult times," he said and added Riyadh assisted us with the balance of payments and the supply of oil. "We have a historic fraternal relationship with Saudi Arabia," he said.
Regarding country s economic situation and currency depreciation, he said that when we try to artificially strengthen our rupee, it will be a loss, as former foreign minister Ishaq Dar did.
Talking about Pak-US relations, he said, "I want to make it clear that we will continue to work for peace with the US administration, adding that peace in Afghanistan is a shared responsibility and it would not be appropriate to place the entire burden on Pakistan."
"The real solution to this problem is in the hands of the Afghan leadership because this country belongs to them," he said adding that we expect the new US administration to play an effective role in this regard.
The foreign minister said that at the diplomatic level we have achieved a lot in the last two and a half years. The way the Kashmir issue has been raised globally in these two and a half years is exemplary. "In my opinion, the world is aware of the atrocities perpetrated on Kashmiris, but if there is silence anywhere, it can be expedient."