Sheik Rashid apprises PM Imran about security plan for PDM protest outside ECP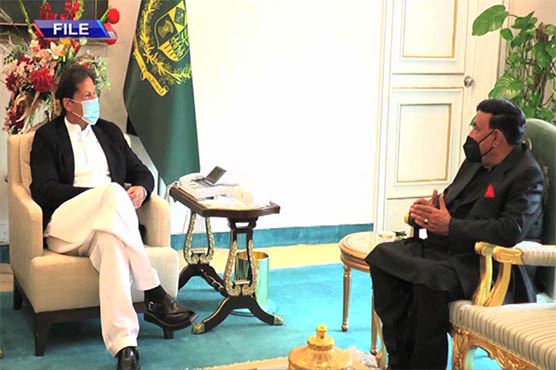 PDM is protesting against delay in PTI foreign funding case.
ISLAMABAD (Dunya News) – Interior Minister Sheikh Rashid Ahmed called on Prime Minister Imran Khan to apprise him about security plan for protest of Pakistan Democratic Movement (PDM) outside office of Election Commission of Pakistan (ECP).
During the meeting, PM Imran Khan directed Sheikh Rashid to main law and order in any case. The prime minister also allowed the interior minister to skip federal cabinet meeting.
Also read: Sheikh Rashid decides to personally monitor situation
On the other hand, Sheikh Rashid Ahmed has decided to personally monitor the situation concerning PDM protest outside the ECP.
A control room has also been established at the Interior Ministry and was visited by Sheikh Rashid and Interior Secretary Yousaf Naseem. Everything will be monitored to ensure peace and order in the federal capital, Sheikh Rashid said.
"All entry and exit points of the city will be strictly observed by cameras. The demonstrators are allowed to stage non-violent protest and it is the first time that any demonstration is permitted at Shahra-e-Dastoor. Hopefully, PDM will remain peaceful," he added.