Ishaq Dar fit for interviews but not to face law: Govt leaders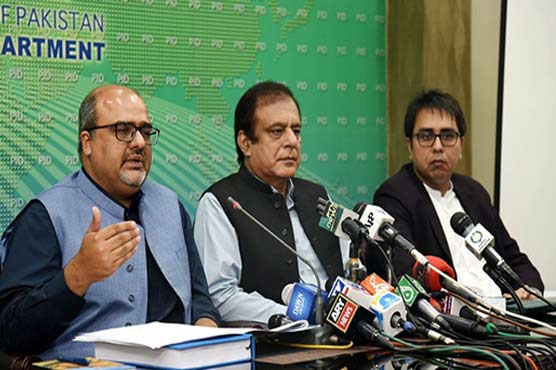 Shibli said that Ishaq Dar got nervous when asked about the reality of his properties.
ISLAMABAD (Dunya News) – Federal Minister for Information Shibli Faraz on Wednesday has said that Pakistan Muslim League-Nawaz (PML-N) leader and former finance minister Ishaq Dar is fit to appear in interviews but becomes sick when it comes to face the law.

While responding to PML-N leader's interview in BBC program Hard Talk, the minister said that Ishaq Dar got nervous when asked about the reality of his properties.

Ishaq Dar felt no embarrassment in damaging the country's reputation by defending his corruption on international media platform, he added.
Meanwhile, Adviser to Prime Minister on Accountability and Interior Barrister Mirza Shahzad Akbar said that the foreign media has exposed Ishaq Dar's properties, cars, cash and other valuables.

While addressing a news conference, the adviser said that Ishaq Dar became upset over the questions of the anchor and said he only owns one property in Pakistan which has been seized by the federal government. The former finance minister possesses 6-acre land, one house in DHA Phase-IV and millions of rupees in his bank account, he told.

On the other hand, Special Assistant to Prime Minister on Political Communication Dr Shahbaz Gill said that these people loot country's money and flee abroad to avoid accountability process.

Over question related to his illness, Ishaq Dar told the BBC interviewer that Pakistan commits human right violations, Gill added.
The reaction came after fugitive and former finance minister Ishaq Dar was grilled in the BBC program Hard Talk and failed to answer questions regarding presence in London, properties and treatment.
Ishaq Dar looked disturbed at the tough questions on the BBC program. He tried to beat about the bush when asked about illness, non-appearance in court and property issues. The British anchor showed him the truth in an attempt to defame the country by making human rights excuses.
On the issue of property, he said that he had only one property which was confiscated by the present government, to which anchor said, "Is there only one property. So Ishaq Dar was stunned and said no, I have a villa which is on the name of my children.
Asked about staying in the UK for three years, Ishaq Dar said, "I am not feeling well. I have come for treatment. I am still in pain. See what happens next."
When anchor asked if it was possible for him to return home, Ishaq Dar started crying about human rights. Anchor said that Nawaz Sharif is also in London on medical ground like you. Ishaq Dar began to comment on the NAB s detention and Supreme Court verdict, to which anchor said Nawaz Sharif was a convict.
On allegations of electoral fraud, the anchor corrected fugitive Ishaq Dar and said that EU observers had declared the election results credible.