Ishaq Dar grilled during BBC interview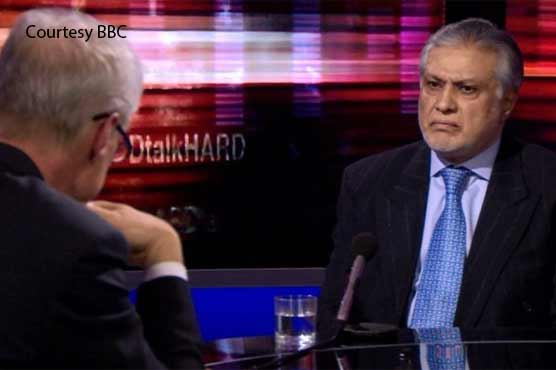 Ishaq Dar grilled during BBC interview
LONDON (Dunya News) - Fugitive and former finance minister Ishaq Dar was grilled in the BBC program Hard Talk and failed to answer questions regarding presence in London, properties and treatment.
Fugitive Ishaq Dar looked upset at the tough questions on the BBC program. He tried to beat about the bush when asked about illness, non-appearance in court and property issues.
The British anchor showed him the truth in an attempt to defame the country by making human rights excuses.
In the BBC program Hard Talk, the anchor exposed every lie of Ishaq Dar.
On the issue of property, he said that he had only one property which was confiscated by the present government, to which Anchor said, "Is there only one property. So Ishaq Dar was stunned and said no, I have a villa which is on the name of my children.
Asked about staying in the UK for three years, Ishaq Dar said, "I am not feeling well. I have come for treatment. I am still in pain. See what happens next."
When anchor asked if it was possible for him to return home, Ishaq Dar started crying about human rights. Anchor said that Nawaz Sharif is also in London on medical ground like you.
Ishaq Dar began to comment on the NAB s detention and Supreme Court verdict, to which Anchor said Nawaz Sharif was a convict.
On allegations of electoral fraud, the anchor corrected fugitive Ishaq Dar and said that EU observers had declared the election results credible.