Mandate of people was stolen in Gilgit-Baltistan election: Bilawal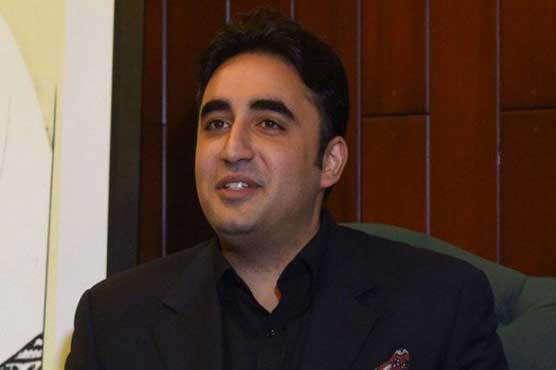 He said that the candidates were pressurised for joining the ruling PTI
GILGIT (Dunya News) – Pakistan Peoples' Party (PPP) chairman Bilawal Bhutto Zardari on Monday said that the rights of the people have been robbed by stealing the mandate.
Addressing the party workers on Monday, protests will be held in the constituencies where there had been rigging and his party won't sit until getting the seats it won, adding that Gilgit-Baltistan will not be handed over to eight puppets.
He said that the candidates were pressurised for joining the ruling PTI, adding that the polls were rigged.
"The protection of your vote was the job of the Election Commission," he said adding that the Chief Election Commissioner (CEC) targeted the opposition. "Our candidate lost by two votes. They are trying to steal three seats but we will not let them."
The PPP chairman said that Gilgit-Baltistan cannot be handed over to puppets and selected, adding that the puppets had no idea that they would win the election. He said the PTI doesn't even have a candidate for the chief minister. "We will continue election campaign and protest and his party would march towards Islamabad if justice is not delivered," he added.
Earlier today in a tweet after Pakistan Tehreek-e-Insaf (PTI) won Gilgit-Baltistan elections, Pakistan Peoples Party (PPP) Chairman Bilawal Bhutto Zardar said on Monday that his election has been stolen.
The PPP chairman took to Twitter and said he will be joining the people of Gilgit-Baltistan in their protest shortly.
---
My election has been stolen. I will be joining the people of Gilgit-Baltistan in their protest shortly.

— BilawalBhuttoZardari (@BBhuttoZardari) November 16, 2020
---
It is pertinent here to mention that PTI won the most seats in Gilgit-Baltistan Legislative Assembly elections – held on Sunday – but failed to win an outright majority.
According to unofficial/unconfirmed results, PTI secured nine seats while PPP got four seats, Pakistan Muslim League-Nawaz (PML-N) grabbed two seats, MWM secured one seat and independent candidates have secured seven seats.
PML-N Vice-president Maryam Nawaz said that it is shameful for Pakistan Tehreek-e-Insaf (PTI) to not get a simple majority in Gilgit-Baltistan elections despite use of full state machinery and institutions.
Maryam Nawaz, in a series of tweets, said that neither PTI had any existence earlier in Gilgit-Baltistan nor does it has now and the few seats PTI got in this elections were because of rigging in the elections.
She further said that PTI will form government with the help of crunches just like it formed government in Punjab and Centre despite not having a simple majority.
Maryam also addressed the people of Gilgit-Baltistan through her tweet that they must not lose their courage. "This wall of sand is about to fall and show of puppet is about to be over," said the PML-N leader.