Published On 04 October,2020 09:03 pm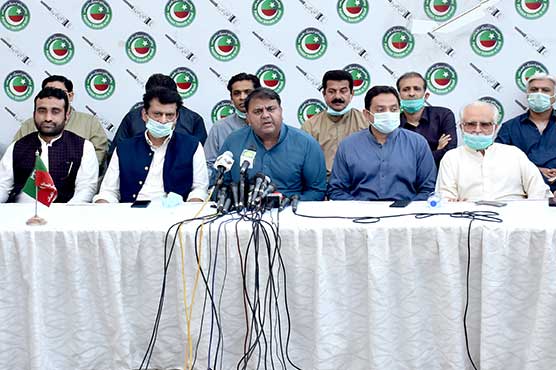 he said that 'Abbu bachao' campaign has turned into 'inteshar party'
KARACHI (Dunya News) – Minister for Science and Technology Chaudhry Fawad Hussain on Sunday said that it is necessary to bring back former prime minister and Pakistan Muslim League-Nawaz (PML-N) supremo Nawaz Sharif but it will not be easy.
Talking to media in Karachi on Sunday, he said that abbu bachao campaign (save our fathers) has turned into 'inteshar party', adding that Nawaz Sharif while staying in London wants people take to the streets.
The minister said that Pakistan Peoples' Party (PPP) chairman Bilawal Bhutto Zardari was looking towards Jamiat Ulema-e-Islam-Fazl (JUI-F) chief Moulana Fazlur Rehman, adding that the PML-N and the PPP should hold meetings in marriage halls.
He said that today PPP and PML-N have to rely on the children of madrassas and Benazir Bhutto s party has to work under the leadership of Maulana Fazlur Rehman and an ordinary PPP worker will be saddened because of this.
Chaudhry went on to say that the government has not imposed restrictions on anyone, adding that Nawaz Sharif and Maryam Nawaz have exposed themselves with their lies. He said senior lawyer approached the court and the PEMRA imposed restrictions on Nawaz Sharif's speech on court orders. The PML-N should approach the court against PEMRA, he said.
The science and technology minister further said that a letter has been written to British government to bring back the PML-N supremo. "It is necessary to bring back former prime minister but it will not be easy," he added.
"We do not have any personal fight with Nawaz Sharif but he went abroad with billions of rupees of the country," the minister added.
He said that PTI has lost 15 seats with less than 2500 votes, and it had taken PTI four years to open four Constituencies against rigging in the 2013 elections.
The federal minister said that the law of accountability has been framed by PML-N and the Chairman NAB was appointed by Shahid Khaqqan Abbasi and the cases being investigated today are the same cases that PML-N and PPP has filed against each other.
"We have to answer to the opposition," he said and added we cannot leave media space blank. He said the country's armed forces and judiciary are the guarantors of the state of Pakistan.
Fawad Ch claimed that the opposition's movement would end before it even started, adding that the opposition has neither moral nor constitutional ground for their movement. He said that if PM Imran Khan assures them that PTI will not insist on accountability, they will all work on the old salary today. He said that the statement of Nawaz Sharif was that his two sons were living in expensive area of London but N-League workers and their children in Pakistan be taken to the streets.
He said that federal government is working on a number of projects for utilization of latest technology in various fields.
The minister said that we will introduce electric transport in Islamabad to make it a pollution free city, adding we also have a project in line to run electric public transport in Karachi.
Fawad Chaudhry said that the whole project of the electric public transport in Karachi has been handed over to the Governor Sindh.
Speaking on the occasion, Senator Shehzad Waseem said that we have faced several challenges successfully in the leadership of Prime Minister Imran Khan. He said that opposition's narrative is against the institutions of the state.