PM launches programme to provide Sehat Insaf Card to every family of KP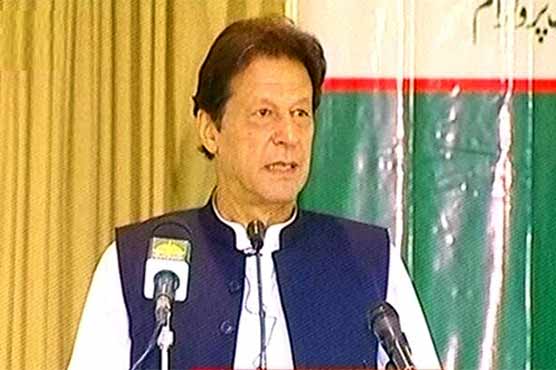 He said that the other provinces especially Punjab should follow suit
ISLAMABAD (Dunya News) – Prime Minister Imran Khan on Thursday launched a programme to provide Sehat Insaf Card to every family of Khyber Pakhuntakhwa.
Khyber Pakhtunkhwa is the first province where every family is being provided Sehat Insaf Card. The family having the card will be able to get free medical treatment worth Rs1 million at government and private hospitals. Earlier, 40 percent population of the province had been benefitting from Sehat Insaf Card.
Addressing the ceremony, PM Imran Khan while congratulating to KP Chief Minister Mahmood Khan and Pervez Khattak for providing health insurance cards to all the families in the province said that this was a big step of the provincial government.
He said that the other provinces should follow suit, especially Punjab, where the Pakistan Tehreek-e-Insaf is in power, adding that there would also be pressure on other provinces to issue Sehat Insaf Card.
Imran Khan went on to say that the provision of the Sehat Insaf Card will also encourage healthy competition within hospitals and healthcare facilities to improve their services.
In September 2016, the prime minister had launched Sehat Insaf Card in Khyber Pakhtunkhwa. The programme covered all the district of Khyber Pakhtunkhwa as the total cost of the programme is Rs.5362.2 million while it covered 50 percent of the population of KP including 1.8 million households while one household will get free treatment in public and private hospitals up to Rs 5, 40,000.