Pak-China sign Azad Pattan hydropower plant project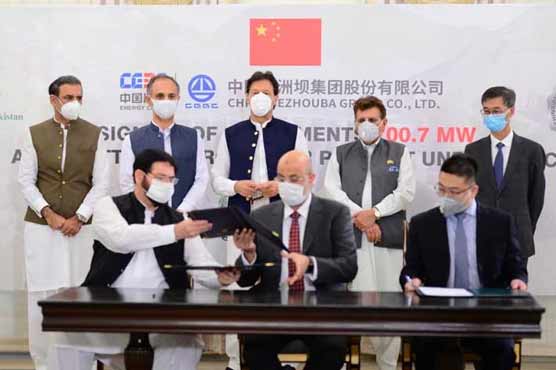 Pak-China sign Azad Pattan hydropower plant project
ISLAMABAD (Dunya News) – To raise the share of hydropower production in the total energy mix, Pakistan has signed Azad Pattan Hydropower Project to add around 700 megawatts of electricity to its capacity by 2026.
Addressing the ceremony of Azad Pattan Hydropower Project Agreement, Prime Minister Imran Khan has said that the project is an investment and will not be a burden on the country.
According to details, an agreement has been signed for Azad Pattan Hydropower Project. The project will generate 700 megawatts of electricity and create 3,000 jobs.
Addressing the inauguration ceremony of the project, PM said that we have learned a lot from the development of China, and the China Pakistan Economic Corridor (CPEC) project will take Pakistan to the very top.
The Prime Minister said that unfortunately in the past no attention was paid to cheap electricity. Countries in Debt have to pay a heavy price. We are not building a power project with a loan, it is an investment, he added.
He said that CPEC is moving forward in different phases. The Azad Pattan Hydropower Project is a CPEC project and our priority is clean energy which will not affect the environment.
The Prime Minister said that after the 1990s, expensive electricity had a huge impact on the economy. The hydropower project electricity will benefit a lot. Expensive electricity had damaged the industry and expensive electricity had made a difference in every sector.
Addressing the ceremony, he said that the people had to pay a heavy price for electricity from imported oil.
"I am happy that now electricity will be generated from water in Pakistan and these projects will fulfill our dream of a clean and green Pakistan", said PM.