Last Updated On 17 June,2020 09:08 pm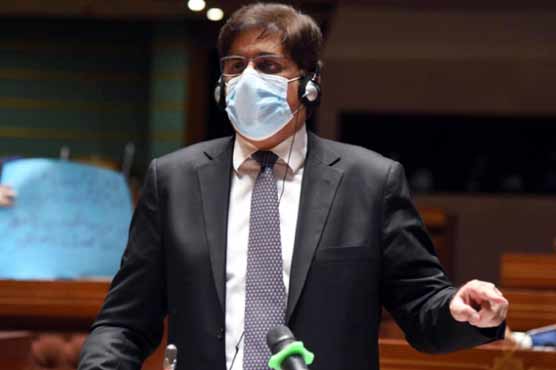 The budget of the health department has been increased by 16.1pc to Rs139 billion
KARACHI (Dunya News) – Sindh Chief Minister Syed Murad Ali Shah has presented the budget 2020-21 in the Sindh Assembly with a total outlay of Rs1241 billion on Wednesday.
The budget session began under Speaker Assembly Agha Siraj Durrani, where Shah, who also holds the portfolio for provincial finance minister, presented the outlay. In his speech, the CM said that he is honoured to present the budget for the eighth time.
He said that despite difficult circumstances, he is presenting the budget for the financial year 2020-20, adding that the COVID-19 is primarily a threat to the existing health system.
He said that the province is in dire straits due to coronavirus pandemic and locusts attacks, adding that the budget has been prepared keeping in view the plight of the people of Sindh.
Murad Ali Shah said that the Sindh budget for 2020-2021 is estimated at Rs1241 billion and the total deficit of budget 2020-21 is 18.38 billion.
"The provincial government has formed a Rs3 billion Corona Emergency Fund and Sindh took the initiative for the lockdown and the other provinces followed suit," he said and added from the Rs3 billion, the provincial government paid Rs1.3 billion while Rs1.7 billion were given by the provincial employees.
The budget of the health department has been increased by 16.1pc to Rs139 billion to deal with epidemics and contagious diseases, he said.
The CM said that basic salary Health Risk Allowance will be provided to all health personnel including postgraduates and house job officers working in COVID-19 cases applicable from March 2020.
Speaking about agriculture, Murad said the agriculture budget has been increased by 40% to Rs.14.84 billion, due to agriculture support for small farmers. He said a sum of Rs1 billion has been allocated to small farmers as a concession for quality rice seeds, while Rs.20 billion has been proposed for cash transfers to individuals affected by COVID-19 under Sindh Peoples Support Program.
A total of Rs5 billion has been allocated for a Soft Loan Program for Small & Medium Enterprises and Rs1.0 billion will be provided on account of Fertilizer subsidy to the farmers with landholding of 25 acres or less, while Rs500 million is proposed for Livestock breeding.
He said that non-development expenditure is estimated at Rs986 billion, while Sindh development expenditure is estimated at Rs232 billion and Capital expenditure is estimated at Rs39 billion.
The chief minister said that no new tax has been introduced in Budget 21-2020. He said, total receipts were estimated to be Rs1223 billion, including federal receipts at Rs760.30 billion which accounts for 65 percent, provincial receipts at Rs313.39 billion or 26.8 percent, capital receipts at Rs25 billion i.e 2.1 percent and other receipts at (FPA & PSDP) Rs69.05 billion (5.9 percent).
Regarding corona testing, Murad Ali Shah said that the capacity of corona testing in the province has been increased to 11,450 daily, adding that 81 quarantine centers with a capacity of 8266 beds have been set up in all the districts and this capacity will be increased to 8616 by June 2020.
A sum of Rs300 billion has been earmarked for poverty alleviation programs for small businesses in urban areas, while Rs200 billion proposed for poverty alleviation program for small workers/communities in rural areas informed CM.
The budget of education departments has been increased by 10.2pc to Rs243 billion for quality education and to address post-epidemic education challenges.
Sindh Chief Minister said grant to local councils increased by 5pc to Rs78 billion.
He said that Sindh s agricultural economy accounts for 24% of GDP, adding that Sindh s share in national production is 36% in rice, 29% in sugarcane, 34% in cotton and 15% in wheat.
---
Read Murad Ali Shah s budget speech below