Last Updated On 16 June,2020 07:28 pm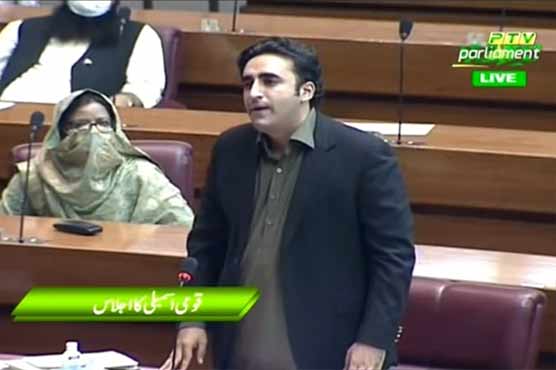 Govt's poor decisions responsible for spread of coronavirus: Bilawal Zardari
ISLAMABAD (Dunya News) - Chairman Pakistan People's Party (PPP) has pinned the blame for the spread of Coronavirus in Pakistan on the government's decisions and said that one death is taking place every fifteen minutes due to the pandemic.
Speaking in today's National Assembly session, he said that to date, the government has been clueless in addressing the situation. The country's economic situation is in complete jeopardy with the budget providing no suitable help. He said that the people of Pakistan will give the leading party a rude awakening in the next elections.
Bilawal Bhutto said that we had informed about the threat posed by coronavirus back in February, just as the PPP had warned of the dangers of terrorism, but no one paid heed to our concerns. He said that we were advocating for lockdowns based on expert opinions as we knew the virus would spread dangerously during the days of Ramazan.
He blamed poor decisions by the government for the coronavirus outbreak saying that the federal government has been confused since day one. He also criticized Prime Minister Imran Khan's conflicting statements regarding the severity of the virus and said that the government is completely direction less.
Chairman PPP said that the issue of locust hoards is also a big problem following coronavirus which was raised last year by Asif Zardari and Akhtar Mengal but the government's performance is just as abysmal. He warned that the federation is being harmed and asked who is to blame for the current situation.