Shehbaz Sharif is not Imran Khan to come under pressure from sugar mafia: Marriyum Aurangzeb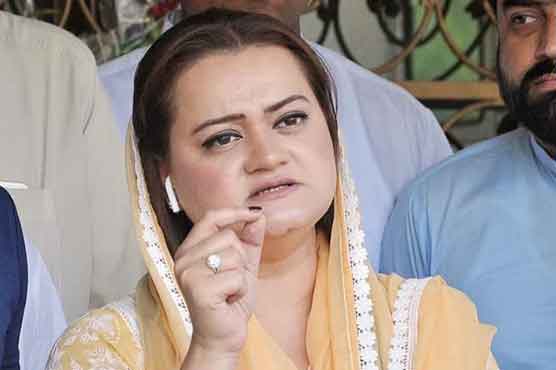 Shehbaz Sharif is not Imran Khan to come under pressure from sugar mafia: Marriyum Aurangzeb
LAHORE (Dunya News) – Pakistan Muslim League Nawaz (PML-N) spokesperson Marriyum Aurangzeb has said that PML-N President Mian Muhammad Shahbaz Sharif is not Prime Minister Imran Khan who would come under the pressure of sugar mafia and then form a commission and try to hide behind of report.
Reacting to the statement of Special Assistant for Accountability Shahzad Akbar, PML-N spokesperson Marriyum Aurangzeb said that the hired spokesperson "beat about the bush", instead of answering the questions raised by Shahid Khaqan Abbasi in his press conference. Circus and the waving of documents cannot hide the theft of Imran Khan and Usman Buzdar. If Shahid Khaqan Abbasi or the PML-N has done something illegal or wrong, then instead of circus government should take action, she added.
Marriyum Aurangzeb said that the PML-N did not allow the price of sugar to go up by a single penny in 5 years. Shehbaz Sharif stood along with the farmers against sugar mafia and did not reduce the price of sugarcane despite the decision of the Sindh High Court (SHC), then how can Shehbaz Sharif be influenced by Shahid Khaqan Abbasi?
The PML-N spokesperson said that Shehbaz Sharif is not Imran Khan who will come under the pressure of sugar mafia and then try to hide under the guise of report by forming a commission. The hired spokespersons should answer why the Sugar Commission was not satisfied with the response of Abdul Razak Dawood, Asad Umar and Usman Buzdar. Mentioning the names of Nawaz Sharif, Shehbaz Sharif, Salman Shehbaz and Shahid Khaqan will not hide Imran Khan s theft.
Marriyum Aurangzeb said that the rented spokespersons should answer why Imran Khan and the sugar thieves raised the price of sugar from Rs 53 to Rs 90 in a year. Why did Imran Khan allow the export of sugar despite the shortage of sugar? Why was sugar subsidized despite the depreciation in rupee by 40% against the dollar? How long will the spokesmen lie? How long will they accuse others? When will they present evidence and when will they take action, she added.