Rana Sanaullah challenges Sheharyar Afridi to testify on Quran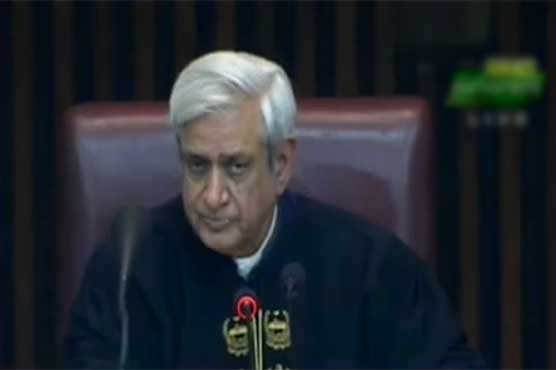 Members of PML-N chanted 'Sheer aya, Sheer aya' on arrival of Rana Sanaullah in National Assembly
ISLAMABAD (Dunya News) – Former Law Minister Rana Sanaullah on Tuesday challenged Minister of State for Narcotics Control Sheharyar Afridi to testify on Quran to prove allegations.
Acting Speaker of the National Assembly Syed Fakhar Imam prevented the situation from getting tense and said that there should be no further discussion and decision will not be made on Quran as this matter is in the court.
According to details, In National Assembly session under the chair of acting Speaker, Sheharyar Afridi in his enthusiastic address said that he wished Rana Sanaullah would be present in the house to listen his address.
He said that following the constitution and the law is our duty. Rana Sanaullah holds a press conference holding the Quran in his hand; however, his case is to be decided by the court. The trial could not be started for seven months due to his lame excuses. He asked Rana Sanaullah that why he is fleeing the trial and why not allow the trial to begin if he is innocent. The witnesses have not yet appeared in court.
Sheharyar Afridi said that if he had sworn at any time then the punishment of the thief is his punishment. He said he was mocked for saying that he has to give his life to Allah and urged Rana Sanaullah to not only hold Quran but also follow it.
The minister said that victims of Model Town tragedy are also waiting for Rana Sanaullah. The government and the ministry will not let him run away and will prove that the case against him is based on facts. He said that a decision should be taken in this House today and the reality should be revealed to the people.
He said that it's his belief to stand firm against an oppressor and he will continue to do so. He claimed that even members of PML-N call him 'son of a man' and reality will be revealed when trial begins on 18th.
Members of PML-N chanted 'Sheer aya, Sheer aya' on arrival of Rana Sanaullah in the house.
Rana Sanaullah in his address claimed that ANF did not inform him about charges against him and charges were revealed to him in the court as investigation officer never talked to him.
PML-N leader said that in any prosecution, investigation should be conducted before trial. He was charged with drug smuggling but he can swear that he has no links with drug dealers.