Last Updated On 12 December,2019 10:12 pm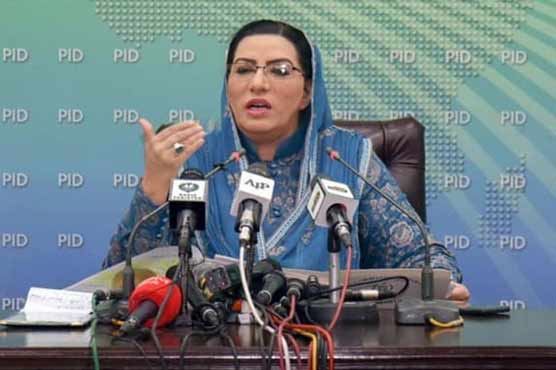 Awan said that confrontation between doctors and lawyers is not encouraged in any system of world.
ISLAMABAD (Dunya News) - Special Assistant to the Prime Minister on Information and Broadcasting Dr Firdous Ashiq Awan said that law will be equal for everyone even if perpetrator is a nephew of the prime minister.
According to details, the PTI core committee meeting chaired by Prime Minister Imran Khan strongly condemned the PIC incident and decided to contact the judicial and lawyers' organizations.
SAPM Awan expressed at a media briefing that a handful of elements had disrespected the law. "The PML-N workers turned the whole process into anarchy," she maintained.
Firdous Ashiq Awan said that everything will be revealed in the inquiry report. She informed that a final report of the Punjab Institute of Cardiology (PIC) attack has not yet been given to PM Imran.
She expressed that it was heartbroken to learn about the patients who suffered and passed away during the riot.
Meanwhile, Dr Firdous Ashiq Awan demanded bar councils and judicial organizations to identify the black sheep in their flock, and launch a campaign to remove the bad elements of the institution.
She went on to apprise that lawyers raided the hospital, while the doctors left their patients in order to save their own lives. "One class is a savior of the humanity, while the other is the protector of the law," she said, adding that confrontation between both institutions is not encouraged in any system of the world. "If the law-protectors start attacking the law like this, then the society will adopt the law of the jungle," she asserted.
On the other hand, SAPM Awan said that people take bail on medical ground from the court and leave for their home instead of hospital. "Asif Ali Zardari came out of the hospital making a victory sign," she expressed.
Meanwhile talking about Nawaz Sharif, she stated that the Pakistan Muslim League-Nawaz (PML-N) supremo will be dealt accordingly when his bail period ends. "Government's countdown will start when his [Nawaz] court's period ends," she asserted, adding that Nawaz is left with only six to seven days.
She further said that the Punjab Chief Minsiter Usman Buzdar has been directed to talk to all the parties for the recovery of plundered wealth.
Firdous Ashiq Awan expressed that the meeting has decided to introduce the local government system at the grassroots level. "The Prime Minister has directed to complete the organization before the local body elections," she added.