Last Updated On 27 October,2019 07:52 pm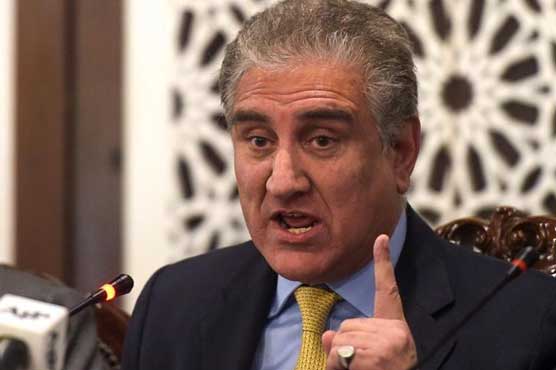 He said India forcibly and illegally took over Indian Occupied Kashmir (IOK) on Oct 27.
MULTAN (Dunya News) – Foreign Minister Shah Mahmood Qureshi on Sunday said that India illegally occupied Jammu and Kashmir and the international community has rejected Indian stance on Kashmir and media all over the world has exposed Indian lies.
Talking to media after inaugurating Abdul Hakim-Khanewal section of M-4 in Khanewal on Sunday, he said that India forcibly and illegally took over Indian Occupied Kashmir (IOK) 72 years ago on October 27.
The foreign minister said that the decision not to grant India's request for Prime Minister Narendra Modi to use Pakistani airspace for his overflight has been made in view of the continued gross human rights violations in occupied Jammu and Kashmir, adding that the Indian High Commissioner was being informed of this decision in a written form.
Qureshi went on to say that the whole world is observing Black Day today to convey a joint message that they have rejected India's illegal occupation of their homeland on this day in the year 1947 due to Modi government's policies.
The foreign minister said Pakistan has raised Kashmir issue at International level forcefully and the world as well as human rights organizations are now showing concern on brutalities being perpetrated in occupied Kashmir.
He said that Prime Minister Imran Khan will inaugurate Kartar pur corridor on 9th of November.
FM Qureshi said India should have courage of issuing visas to the Pakistani visitors so that they could visit various shrines in India and meet their relatives.
He said PTI government is promiting religious tourim in the country.
Regarding Pakistan Muslim League-Nawaz (PML-N) supremo Nawaz Sharif, he said the court decide the fate of the former prime minister.