Jumping in US war was biggest mistake: PM Imran addresses Council on Foreign Relations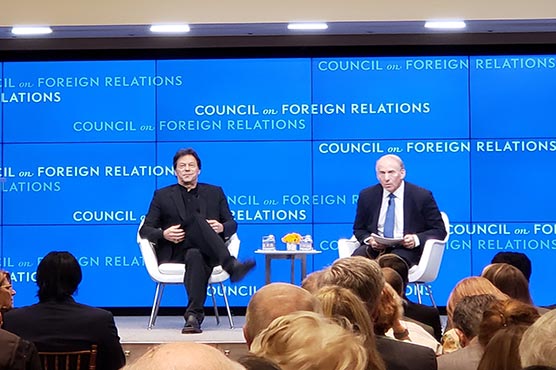 He said Indian government has made hostage eight million Kashmiris by clamping the worst curfew.
NEW YORK (Dunya News) – Prime Minister Imran Khan on Monday said that the United States presented mujahideen as heroes during Soviet–Afghan war but later we were asked to wage a war against those heroes after September 11 attacks.
Speaking at an event at the Council on Foreign Relations think tank in New York, he said that the US had left Pakistan alone after the withdrawal of Russia from Afghanistan, adding that the US needed Pakistan's help once again after September 11 attacks.
"Soviet forces killed around 1 million during its war in Afghanistan," he said and added more than 70 Pakistanis have been martyred in the war on terror.
He also encouraged US President Donald Trump to restart talks with Afghanistan s Taliban, saying there ultimately had to be a political settlement. "I am meeting with President Trump later on and I will tell that, look, there s not going to be a military solution," he said.
"For 19 years if you have not been able to succeed, you re not going to be able to succeed in another 19 years," Khan said.
Trump has frequently called for an end to America s longest war, launched after the September 11, 2001 attacks, and a senior US diplomat reached a deal to pull troops after a year of negotiating with Taliban militants. But Trump abruptly ended talks earlier this month, revealing on Twitter that he had invited Taliban leaders to the United States but canceled their visit after a bombing in Kabul killed a US soldier.
Khan, a former cricket star who has long criticized military operations against extremists, discounted the possibility that the Taliban would topple the internationally recognized government in Kabul without US troops.
"I don t think the Taliban will be able to control the whole country. I think there will be a settlement," he said. "I honestly believe that this is not the Taliban of 2001. There are lot of things that happened and I believe they will be more accommodating," he said.
I am the only person who said that the Afghan issue doesn't have military solution, Imran Khan said, adding that 2.7 million Afghan refugees are living in Pakistan.
The prime minister went on to say that the previous governments failed to find a solution to the economic woes, adding that due to the persistent issues, the current government had to rely on the International Monetary Fund (IMF).
The prime minister said that the economic condition of the country was in dire straits and China was the first country to help when his party came into power.
Regarding Indian-occupied Kashmir, Imran Khan said that the occupied Valley is under strict restrictions for the last 50 days after unilateral abrogation of Article 370 of the Indian Constitution through a rushed presidential decree on August 5.
He said that India is violating international laws in occupied Kashmir, adding that how can we hold talks with New Delhi in such environment and the international community should play a role to end curfew in occupied Kashmir. "Indian government has made hostage eight million Kashmiris by clamping the worst curfew for the last 50 days," Imran Khan said.
Imran Khan said the ruling party in India is pursuing an agenda of racist Hindu supremacy of Rashtriya Swayamsevak Sangh.
The prime minister said just after coming to power he extended a hand of cooperation and resolving all issues with India on the dialogue table, but his offer was not well responded by the rulers of New Delhi.
He said Pakistan and India have common issues like poverty and climate change, which need to be addressed together, adding that we urged India to reset our relations based on mutual interest. He also made it clear that we will allow no terrorist group on our soil.
Replying to a question, the premier said that China provided foreign exchange reserve and saved Pakistan from default. He said we signed a Preferential Trade Agreement with China to enhance our exports, while Beijing is also helping us by relocating industry to Pakistan.