Last Updated On 19 September,2019 03:18 am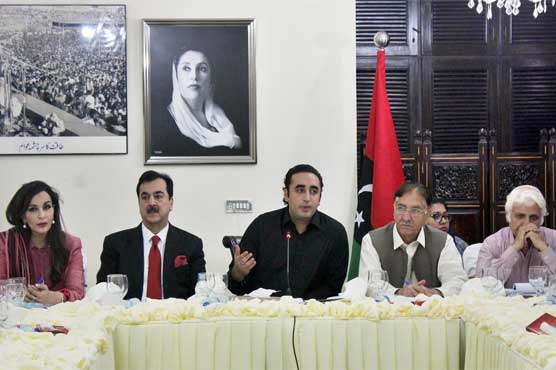 NAB on Wednesday arrested Khursheed Shah in case pertaining to assets beyond income source.
ISLAMABAD (Dunya News) – Pakistan People s Party (PPP) chairman Bilawal Bhutto Zardari condemned arrest of senior PPP leader Khursheed Shah by arrest the National Accountability Bureau (NAB), Dunya News reported.
Addressing a press conference after presiding PPP core committee meeting in Islamabad on Wednesday, Bilawal Bhutto Zardari said that the opposition was being targeted for political revenge and added that NAB was used as a tool for political vitimisation.
Lashing out at the Pakistan Tehreek-e-Insaf government, Bilawal Bhutto said that the cause of Kashmir is being harmed by the illegitimate, incompetent and puppet Prime Minister.
Bilawal Bhutto said that the PPP would stage protests on public issues in a democratic way. He said that the PPP was in touch with Maulana Fazlur Rehman and other opposition parties in this regard.
The PPP chairman said that his party has given a deadline till end of the yearto the government. He also announced to continue moral support to Maulana Fazlur Rehman sit-on protest in Islamabad next month.
The National Accountability Bureau (NAB) on Wednesday arrested Pakistan Peoples' Party (PPP) senior leader Syed Khursheed Shah in case pertaining to assets beyond income source.
The PPP stalwart will be produced before the Accountability Court Sukkur on Thursday for a remand.
The inquiry against Khursheed Shah was initiated on August 7. The PPP leader is accused of illegally registering an empty plot in his name for a bungalow in Cooperative Society.
The PPP leader had also allotted to himself an amnesty plot illegally from a cooperative society in Sukkur.
As per the details, the PPP leader was arrested from his residence in Bani Gala.
Earlier today, Khursheed Shah had excused himself from appearing before the National Accountability Bureau (NAB) over his summon.
It is pertinent here to mention that on August 7, the anti-corruption watchdog had unearthed more than 105 accounts belonging to Shah.
The properties were made in Sukkur, Rohri and Karachi, according to the document and it further reveals that Glamour Bungalow, Junejo Flour Mills, Mukesh Flour Mills including 83 other properties were made under Shah's frontman, Pehlaj Rai.